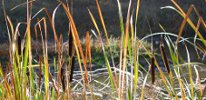 Training
Identifying Conservation and Research Priorities for Coastal Prairie in Sonoma and Marin Counties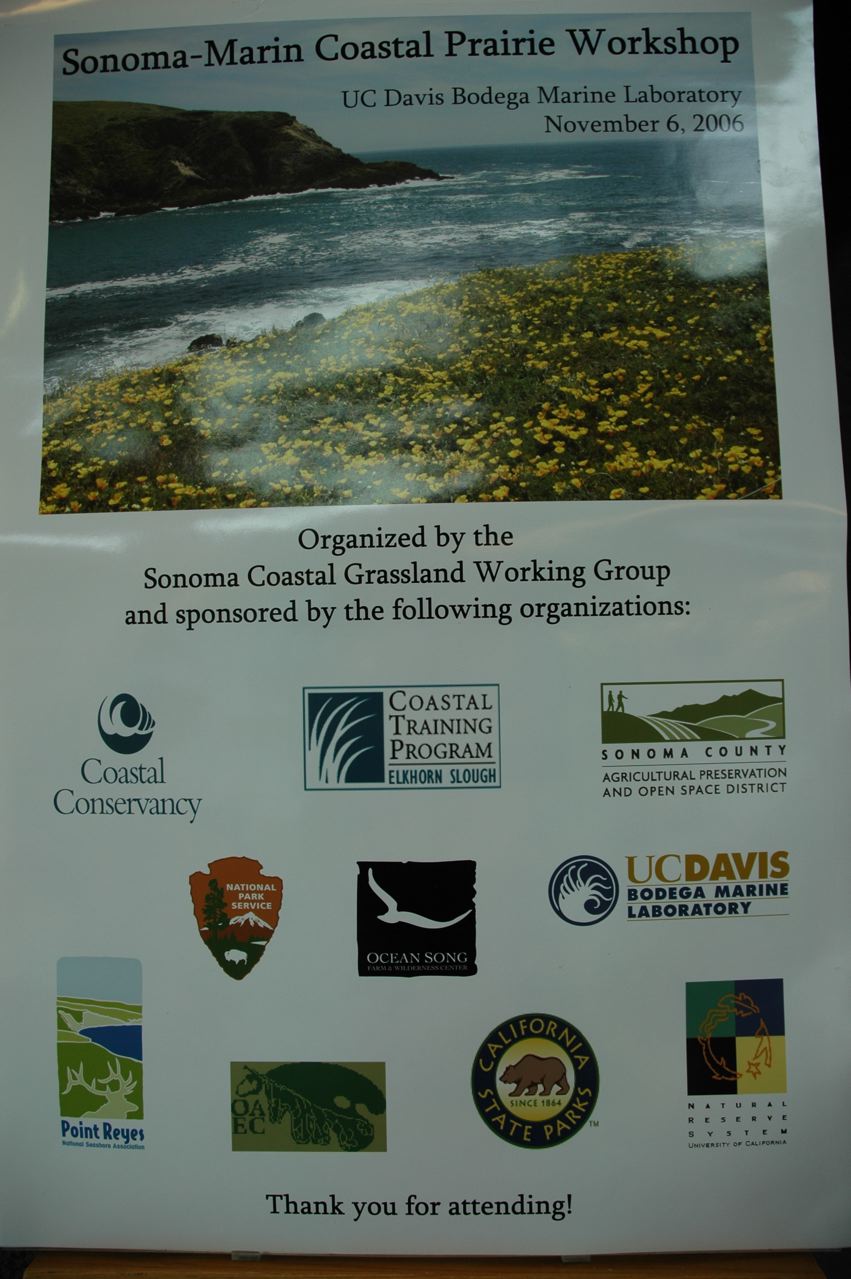 Registration Opens:
Deadline to Register:
Cost: FREE
Seats Available: 70 of 70 REGISTER NOW
Please only register for yourself, registration requires a unique email address.
---
Contact
Grey Hayes
grey@elkhornslough.org
(831) 274-8700
Sponsors

Elkhorn Slough Coastal Training
Ocean Song Farm and Wilderness Center
Coastal Prairie Stewardship Study
Point Reyes National Seashore Association

Coastal Conservancy
Sonoma County Agricultural Preservation and Open Space District
UC Natural Reserve System
UC Davis Bodega Marine Laboratory
Occidental Arts & Ecology Center
Description
See also: Coastal Prairie, Habitat Restoration
The Sonoma Marin Coastal Prairie Workshop was a one-day workshop that brought together agencies, researchers, managers, landowners, and other interested community members to identify needs and priorities for coastal prairie conservation, protection and restoration in coastal Sonoma and Marin Counties. The workshop is organized by the Sonoma Coastal Grasslands Working Group, which facilitates collaborations among partners dedicated to conserving, protecting and restoring coastal grasslands. The goal of the workshop was to develop a list of prioritized projects (research, educational, management and preservation) for coastal prairie in coastal Sonoma and Marin counties. During the morning session, workshop participants received information from experienced researchers, managers and educators on coastal prairie management and ecology. In the afternoon, participants developed common goals for prairie conservation and prioritized a list of important steps for action. The resulting document will be made available to workshop participants and others to create awareness of coastal prairie issues, enhance cooperation, and seek collaborative funding for coastal prairie projects in our region.
Documents and Publications
DOCUMENT
AUTHOR / SOURCE
WORKSHOP MATERIALS
Agenda: Sonoma/Marin Coastal Prairie Priorities
PDF, 21KB



Contact List: Identifying Conservation and Research Priorities for Coastal Prairie in Sonoma and Marin Counties
PDF, 42KB
Coastal Training Program


Mapping and classifying the vegetation of coastal prairies of Marin and Sonoma counties: Where to begin?
PDF, 3.2MB
Todd Keeler-Wolf


Presentation: California State Parks
PDF, 1.7MB
Brendan O'Neil
California Department of Parks and Recreation
November 6, 2006
Presentation: Impacts of grazing to California coast grasslands: State of the science
PDF, 755KB
Sasha Gennet

November 6, 2006
Presentation: Pt. Reyes National Seashore
PDF, 2.9MB
Jane Rodgers and John DiGregoria

November 6, 2006
Presentation: The California Coastal Prairie
PDF, 1.8MB
David Amme


Presentation:LabSweet success: restoring coastal prairie on Bodega Head
PDF, 1.3MB
Peter Alpert


Protecting Coastal Prairies for our Children's Children
PDF, 3.8MB
Grey Hayes


Links
Grazing impacts planning and analysis tool
http://www.grazingimpacts.info/
Questions and Answers
Submit a question on this subject and we'll provide an answer. info@elkhornsloughctp.org