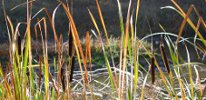 Training
Water Quality and the Elkhorn Slough: A Tour for the Central Coast Regional Water Quality Control Board
COST: FREE
REGISTRATION FOR THIS PROGRAM IS CLOSED
---
Contact
Grey Hayes
grey@elkhornslough.org
831-274-8700
Sponsors

Coastal Training Program, Elkhorn Slough Natl. Estuarine Research Reserve
Description
See also: Elkhorn Slough Water Quality, Polluted Runoff
Goal
Increase understanding of the work of partners in understanding and addressing water quality concerns around the Elkhorn Slough.
Objectives
Increase understanding of:
Elkhorn Slough National Estuarine Research Reserve and Elkhorn Slough Foundation programs;

water quality trends;

partnerships with farmers;

actions to reduce water quality impairments, and;

Regional Board vision.
We feel that this one day event succeeded in meeting the goals and objectives stated above. The Slough Crew wants to thank all involved for a wonderful day!
Documents and Publications
Contact List
We encourage participants to download the contact list to assist with arranging a rideshare or to get in contact with someone you met at the workshop. Those interested in sharing a ride to the event are marked on the contact list.
DOCUMENT
AUTHOR / SOURCE
WORKSHOP MATERIALS
Handout: Exploring solutions: the Elkhorn Slough Tidal Wetlands Program
PDF, 129KB
Monique Fountain
ESNERR
11/15/2013
Presentation: The LOBO (Land/Ocean Biogeochemical Observatory) observing system
PDF, 1.3MB
Ken Johnson
Monterey Bay Aquarium Research Institute
11/15/2013
Presentation: ESNERR Research: Improving conservation and restoration through better understanding
PDF, 3.9MB
Kerstin Wasson, John Haskins, Brent Hughes
ESNERR
11/15/2013
Presentation: The Elkhorn Slough Crew welcomes the Central Coast Regional Water Quality Control Board
PDF, 4.2MB
Mark Silberstein
Elkhorn Slough Foundation
11/15/2013
PEER-REVIEWED PUBLICATIONS
Coastal eutrophication as a driver of salt marsh loss
PDF, 1.3MB
Deegan, L.A., Johnson, D.S., Warren, R.S., Peterson, B.J., Fleeger, J.W., Fagherazzi, S. & Wollheim, W.M.
Nature 490:388-392
2012
Identifying factors that influence expression of eutrophication in a Central California estuary
PDF, 390KB
Brent B. Hughes, John C. Haskins, Kerstin Wasson, Elizabeth Watson
Marine Ecology Progress Series 439: 31-43
October 20, 2011
Informing Olympia oyster restoration: evaluation of factors that limit populations in a California Estuary
PDF, 379KB
Wasson, K
Wetlands 30: 449-459
2010
Salt marshes and eutrophication: An unsustainable outcome
PDF, 1.6MB
Turner, R.E., Howes, B.L., Teal, J.M., Milan, C.S., Swenson, E.M. & Goehringer-Toner, D.D
Limnology and Oceanography 54(5):1634-1642
2009
Signatures of restoration and management changes in the water quality of a central California estuary
PDF, 2.1MB
Gee, Alison Wasson, Kerstin Shaw, Susan Haskins, John
Estuaries and Coasts 33(4):1004-1024
2010
Questions and Answers
Submit a question on this subject and we'll provide an answer. coastaltraining@elkhornslough.org