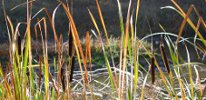 Training
Communicating Climate Change: Effective Skills for Engaging Stakeholders, Partners and the Public - Moss Landing
Participants joined climate and environmental communication expert Cara Pike for an in-depth training in communicating climate change. Through lecture and group discussion, participants learned about public opinion trends for California and how to frame climate change messages for a range of audiences.
COST: $60.00
Payable by check to Elkhorn Slough Foundation
Payable by credit card (online)

REGISTRATION FOR THIS PROGRAM IS CLOSED
---
Instructor Information
Contact
Virginia Guhin
virginia@elkhornslough.org
831-274-8700
Sponsors
Description
Documents and Publications
Contact List
We encourage participants to download the contact list to assist with arranging a rideshare or to get in contact with someone you met at the workshop. Those interested in sharing a ride to the event are marked on the contact list.
DOCUMENT
AUTHOR / SOURCE
WORKSHOP MATERIALS
Participants contact sheet
XLSX, 15KB
Virginia Guhin

2014
PEER-REVIEWED PUBLICATIONS
Climate Change in the Californian Mind
PDF, 995KB
Anthony Leiserowitz, Geoff Feinberg, Peter Howe, and Seth A. Rosenthal
Yale Project on Climate Change Communication
2013
Climate change scenarios for the California region
PDF, 923KB
Cayan, D., Maurer, E., Dettinger, M., Tyree, M. & Hayhoe, K.
Climatic Change 87: 21-42
2008
Science denial and the science classroom
PDF, 331KB
Dennis Liu
Life Sciences Education, 11:129-134
2012
OTHER INFORMATION
Be prepared: The ocean in a 2C world
PDF, 333KB
Center for Ocean Solutions
Center for Ocean Solutions
2013
Best practices for talking with climate skeptics
PDF, 126KB
TRIG - Climate Access - compiled
Climate Access

Bibliography: Tidal Wetlands
PDF, 204KB
Elkhorn Slough Coastal Training Program
NERR CTP
2005
Climate future forums -A model for engaging communities in building climate resilience and reducing emissions
PDF, 4.7MB
TRIG
TRIG
2013
Climate science communications assessment
PDF, 1.3MB
RESOLVE
RESOLVE
2012
Energy Dollar Savings
DOCX, 37KB
Monterey Community

2014
Estos Sencillos pasos
DOC, 53KB
Montery Community


Global climate change as seen by zoo and aquariun visitors
PDF, 3MB
Luebke, J.F., Clayton, S., Saunders, C.D., Matiasek, J., Kelly, L.-A. D., & Grajal, A.
Chicago Zoological Society
2012
How to talk so farmers and landowners listen: A guide to renewable energy communications
PDF, 3.8MB
Clean Tech - CC Group
Clean Tech - CC Group
2013
Language of Conservation
PDF, 244KB
David Metz and Lori Weigel
Public Opinion Strategies
2013
National Latinos and the environment survey
PDF, 980KB
Sierra Club and the NCLR
Sierra Club
2012
Ocean Acidification Fact Sheet
PDF, 440KB
NOAA
NOAA
2013
Talking about science
PDF, 124KB
Cara Pike et al
TRIG - Climate Access
2010
The ecological roadmap - A guide to American social values and environmental engagement
PDF, 7.7MB
Cara Pike et al
Earth Justice
2008
We've been asking the wrong questions
PDF, 56KB
James Watson
The Guardian
2013
Links
Climate Access
http://www.climateaccess.org/about_us
The Resource Innovation Group
http://www.theresourceinnovationgroup.org/
Questions and Answers
Submit a question on this subject and we'll provide an answer. info@elkhornsloughctp.org