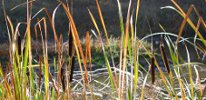 Training
Central Coast Rangeland Coalition's Rancher, Manager, and Scientist Forum on Rangeland Conservation
One way that the Central Coast Rangeland Coalition informs rangeland managers on priority issues is through a former partnership with the Midpeninsula Regional Open Space District and current partnerships with the East Bay Regional Park District and The Nature Conservancy …read on for more information.
COST: FREE
REGISTRATION FOR THIS PROGRAM IS CLOSED
---
Contact
Grant Lyon
grant@elkhornslough.org
831-274-8700
Sponsors
Description
Documents and Publications
Contact List
We encourage participants to download the contact list to assist with arranging a rideshare or to get in contact with someone you met at the workshop. Those interested in sharing a ride to the event are marked on the contact list.
DOCUMENT
AUTHOR / SOURCE
OTHER INFORMATION
Are Landowners, Managers, and Range Management Academics on the Same Page About Conservation?
PDF, 716KB
Lina Aoyama and Lynn Huntsinger
Rangelands 41(1):61-69
February 2019
Compatibility of livestock grazing and recreational use on coastal California public lands: Importance, interactions, and management solutions
DOCX, 205KB
Kristina M. Wolf, Roger A. Baldwin, and Sheila Barry
Central Coast Rangeland Coalition
April 2016
Grazing for conservation on public lands in urban California: rancher and manager perspectives on the prospects for partnership
DOCX, 66KB
Gareth Fisher
Central Coast Rangeland Coalition -in partnership with- Midpeninsula Regional Open Space District
March 18, 2012
Livestock management and water quality
PDF, 250KB
Lewis Reed
CCRC and Midpeninsula Regional Open Space District
April 2011
Perceptions of barriers and opportunities for conservation in Central Coast California rangelands by landowners, managers, and range academics
PDF, 436KB
Lina Aoyama
Central Coast Rangelands Coalition, East Bay Regional Parks, The Nature Conservancy
May 2018
Sharing the range: managing wildlife impacts to livestock production in California Coast Range working landscapes
PDF, 145KB
Sheri Spiegal
University of California, Berkeley
October 2014
Stewarding Soil: promoting soil quality to meet management objectives on California rangelands
PDF, 481KB
Jasmine Westbrook and Susan Edinger Marshall
Central Coast Rangelands Coalition
October 2014
Targeted and Prescribed Grazing in California's Central Coast Region
PDF, 388KB
Erin Campbell-Craven
Central Coast Rangelands Coalition, East Bay Regional Parks, The Nature Conservancy
2017
Questions and Answers
Submit a question on this subject and we'll provide an answer. info@elkhornsloughctp.org