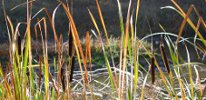 Training
Amphibian Summit 2014
COST: FREE
REGISTRATION FOR THIS PROGRAM IS CLOSED
---
Contact
Kathleen Pollett
kathleen_pollett@fws.gov
(831)-424-1036x114
Sponsors

Elkhorn Slough Coastal Training
Description
See also: Freshwater Wetlands, Habitat Restoration
The 2014 amphibian summit combined information on the native species that are in decline, Central Coast projects to restore and enhance habitats for amphibians, and priorities for pond enhancement within the inner portions of the Central Coast counties of Monterey, San Benito and San Luis Obispo. Each talk allowed time for discussion.
Documents and Publications
Contact List
We encourage participants to download the contact list to assist with arranging a rideshare or to get in contact with someone you met at the workshop. Those interested in sharing a ride to the event are marked on the contact list.
DOCUMENT
AUTHOR / SOURCE
WORKSHOP MATERIALS
Agenda: Amphibian Summit 2014
PDF, 140KB
Kathleen Pollett
US Fish and Wildlife Partners Program
August 2014
Presentation: Coastal Recovery Efforts
PDF, 14.3MB
Kelli Camara, RCD Chris Caris, USFWS Terris Kasteen, CDFW

August 2014
Presentation: Hybridization in the California tiger salamander: Geography, ecology, and management
PDF, 1.7MB
Brad Shaffer
Department of Ecology and Evolutionary Biology & La Kretz Center for California Conservation Science UCLA
August 2014
Presentation: Priority California red-legged frog decision maker information needs, research priorities
PDF, 1.1MB
Grey Hayes
Elkhorn Slough Coastal Training
August 2014
Presentation: Landscape-Level Strategy for Pond Prioritization
PDF, 937KB
Kathleen Pollett Mary Root
US Fish and Wildlife Partners Program
August 2014
Presentation: Voluntary Habitat Restoration and Species Recovery Efforts
PDF, 4.1MB
Kaley Grimland
ALBA
August 2014
Questions and Answers
Submit a question on this subject and we'll provide an answer. info@elkhornsloughctp.org