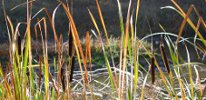 Training
The New Normal: Changed Disturbance Regimes and New Invasive Species
COST: FREE
REGISTRATION FOR THIS PROGRAM IS CLOSED
---
Instructor Information
Dr. Grey Hayes
CTP Coordinator
Elkhorn Slough Coastal Training Program
Contact
Grey Hayes
ghayes@ucsc.edu
(831) 728-8050
Sponsors

Coastal Training Program, Elkhorn Slough Natl. Estuarine Research Reserve
Description
See also: Protected Lands Management, Habitat Restoration
In our explorations of reserve design and why management matters, we have discovered the root of our motivation in expending time and money to manage protected areas: humans have begun pulling apart the ecological fabric that sustains them, and so they must now mitigate that damage by actively managing ecosystems. How much have we changed things in our recent history? This class will explore two of the most fundamental changes- alterations of natural fire regimes and introduction of species from distant lands. And so, we must ask ourselves the following questions:
What were fire regimes before humans altered them?
What role does fire play in our landscape?
Can human ignitions take the place of lightning strikes?
and
How do invasive species affect natural systems?
How do we prioritize amongst invasive species in our management programs?
Documents and Publications
Contact List
We encourage participants to download the contact list to assist with arranging a rideshare or to get in contact with someone you met at the workshop. Those interested in sharing a ride to the event are marked on the contact list.
DOCUMENT
AUTHOR / SOURCE
WORKSHOP MATERIALS
Then and now, ancient human management and new factors: fire and invasive species (and a bit on env. ed)
PDF, 6.9MB
Grey Hayes
ENVS 196 UCSC
2013
PEER-REVIEWED PUBLICATIONS
Are long fire-free periods needed to maintain the endangered, fire-recruiting shrub Arctostaphylos morroensis(Ericaceae)?
PDF, 259KB
Odion, D. and C. Tyler
Conservation Ecology, 6(2):4
2002
Biological Invasions and Ecosystem Processes: Towards an Integration of Population Biology and Ecosystem Studies
PDF, 316KB
Vitousek, P. M.
Oikos 57:7
1990
Biological Invasions and Ecosystem Processes: Towards an Integration of Population Biology and Ecosystem Studies
PDF, 316KB
Vitousek, P. M.
Oikos 57:7
1990
Changing learner behavior through environmental education
PDF, 3.6MB
Hungerford & Volk, 1990


Maritime chaparral community transition in the absence of fire.
PDF, 248KB
Van Dyke, E., K. D. Holl, and J. R. Griffin
Madrono 48:221-229
2001
Mind the gap: Why do people act environmentally and what are the barriers to pro-environmental behavior?
PDF, 342KB
Kollmuss & Agyeman, 2002


Native American Land-Use Practices and Ecological Impacts
PDF, 295KB
Anderson, K., and M. Moratto
Native American Land-Use Practices and Ecological Impacts from Sierra Nevada Ecosystem Project: Final report to Congress, vol. II, Assessments and scientific basis for management options. University of California, Centers for Water and Wildland Resources
1996
The impact of the invasive alien grass Cortaderia jubata (Lemoine) Stapf on an endangered Mediterranean-type shrubland in California
PDF, 641KB
Lambrinos, J. G.
Diversity & Distributions 6:5, pages 217-231
2000
Questions and Answers
Submit a question on this subject and we'll provide an answer. coastaltraining@elkhornslough.org