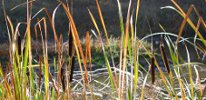 Training
Remote Sensing for California's Rangelands
How do we best match rangeland manager needs to remote sensing technology development? This workshop began to explore these issues...
COST: FREE
REGISTRATION FOR THIS PROGRAM IS CLOSED
---
Contact
Grey Hayes
(831) 274-8700

Sponsors
Description
See also: Central Coast Rangeland Coalition, Sustainable Human Systems
On April 19, 2011, a number of leading remote sensing experts and rangeland management practitioners gathered at the US Forest Service building in Vallejo to discuss current abilities for remote sensing to meet the monitoring needs of rangeland managers. The following is a list of remote sensing priorities for rangelands managers:
Baseline data (may be collected over the long term)
To better understand the effects of climate change
To assist the Forest Service and others with "Condition assessment"
Effectiveness monitoring (Managers may need skills development for interpretation and they need access to yearly updates of analysis performed by others)
Could inform changes in stocking levels
Can help monitor restoration success
Plant productivity monitoring (Needs to be available at the large scale)
RDM
Changes to forage over time
Length of green season
Wildlife relationships monitoring
Monitor conditions for populations of game animals (especiallydeer)
Habitat change monitoring
Biodiversity monitoring
Regulatory compliance monitoring: mitigation, easements
RDM
Oak canopy changes – called out in easements/mitigation requirements
Identify and monitor reference systems for mitigation
Annual grassland systems monitoring
RDM
Weed populations and cover
Bare soil cover
Watershed function
Plant composition
Erosion (active or past)
Perennial systems (Thought to be more difficult, longer term)
USFWS "Condition Assessment"- Composition(plant); Bare ground; Soil
Water
Infrastructure (would be very useful for ranchers and others)
Documents and Publications
Contact List
We encourage participants to download the contact list to assist with arranging a rideshare or to get in contact with someone you met at the workshop. Those interested in sharing a ride to the event are marked on the contact list.
DOCUMENT
AUTHOR / SOURCE
WORKSHOP MATERIALS
Agenda: Remote Sensing for California Rangelands
PDF, 108KB
Elkhorn Slough Coastal Training Program


Contact List- Remote Sensing for California Rangelands
PDF, 261KB
Elkhorn Slough Coastal Training Program


PEER-REVIEWED PUBLICATIONS
Applications and Research Using Remote Sensing for Rangeland Management
PDF, 5.9MB
E. Raymond Hunt, Jr., James H. Everitt, Jerry C. Ritchie, M. Susan Moran, D. Terrance Booth, Gerald L. Anderson, Patrick E. Clark, and Mark S. Seyfried
Photogrammetric Engineering & Remote Sensing, 69(6):675-693
2003
Monitoring Forest Carbon Sequestration with Remote Sensing and Carbon Cycle Modeling
PDF, 530KB
David P. Turner, Michael Guzy, Michael A. Lefsky, William D. Ritts, Steve Van Tuyl, and Beverly E. Law
Environmental Management, 33(4):457-466
2004
Links
CalFire Land Cover Change Monitoring Program
http://frap.cdf.ca.gov/projects/land_cover/index.html
Free MODIS and Landsat data
http://www.glcf.umd.edu/data/landsat/
Free multi-spectral image analysis software from Purdue University
https://engineering.purdue.edu/~biehl/MultiSpec/index.html
National Agricultural Imagery Program - useful for scaling down national data
http://www.fsa.usda.gov/FSA/apfoapp?area=home&subject=prog&topic=nai
US Forest Service Remote Sensing Applications - includes published case studies
http://www.fs.fed.us/eng/rsac/
Questions and Answers
Submit a question on this subject and we'll provide an answer. info@elkhornsloughctp.org