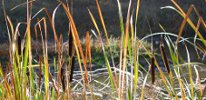 Training
Rangeland Productivity - Central Coast Rangeland Coalition Fall 2018 Meeting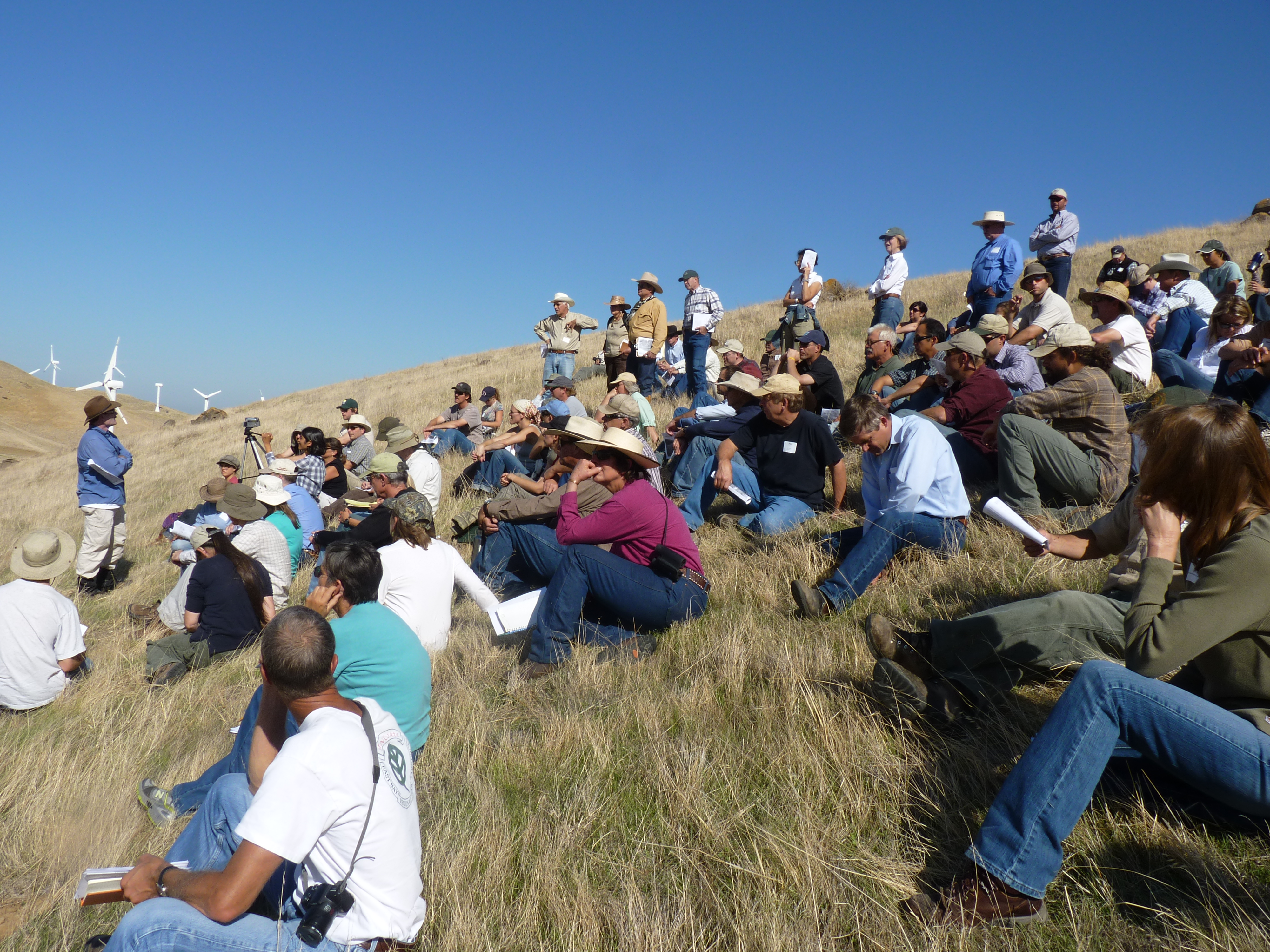 This is the twice-a-year meeting of the Central Coast Rangeland Coalition. The goal of this meeting is to improve participant understanding of alternate methods of cattle management and corollary effects on forage productivity and soil health.
COST: $35.00
Payable by check to Elkhorn Slough Foundation
Payable by credit card (online)

REGISTRATION FOR THIS PROGRAM IS CLOSED
---
Instructor Information
Philip Brownsey
Consulting Rangeland Ecologist
Environmental Science Associates
Dr. Chelsea Carey
Senior Soil Ecologist
Point Blue Conservation Science
Dr. Marc Horney
Associate Professor
California Polytechnic State University, San Luis Obispo, Animal Science Department
Genevieve Landucci
Soil Scientist
Natural Resources Conservation Service
Dr. Toby O'Geen
Professor & Soil Resource Specialist in Cooperative Extension
Dept. of Land, Air and Water Resources, UC Davis
Ken Oster
Area Resource Soil Scientist
USDA-Natural Resources Conservation Service
Contact
Grant Lyon
grant@elkhornslough.org
831-274-8700
Sponsors

Coastal Training Program, Elkhorn Slough Natl. Estuarine Research Reserve

East Bay Regional Parks District

The Nature Conservancy
Description
See also: Central Coast Rangeland Coalition, Sustainable Human Systems
Description
Visit beautiful Swanton Pacific Ranch where ranchers Gordon Claasen and Becca Pulcrano work with Cal Poly students and staff to monitor and research planned grazing regimes to maintain biological diversity and increase grassland production, while teaching about and demonstrating sustainable rangeland management. The program will build off of rancher perspectives, rangeland monitoring, and science to help to direct 'next steps' with improving understanding of different approaches of grazing systems that improve soil health and rangeland productivity.
Goal
Improve participant understanding of alternate methods of cattle management and corollary effects on forage productivity and soil health.
Objectives
Participants improve their understanding of
The holistic management approach at Swanton Pacific Ranch
How rangeland management can affect livestock productivity
Challenges and solutions to monitoring rangeland soil health
Participants enjoy hearing diverse perspectives
Participants enjoy experiencing a new place
Meeting Format
This workshop will consist of indoor lectures and a panel discussion in the morning and an afternoon field session including three learning stations involving different aspects of rangelands. The lecture site and field sites are all located at Swanton Pacific Ranch. There will also be small group discussions interspersed throughout the day to give participants an opportunity to share their expertise and learn from the diverse experiences of other meeting participants.
Registration Information
Please note - your registration will not be final until we receive and acknowledge payment of $35. You can pay online at the link provided after you register, or you can mail a check made out to Elkhorn Slough Foundation addressed to Coastal Training Program, c/o ESF, 1700 Elkhorn Road, Watsonville, CA 95076.
Please register only yourself - no third party registration is allowed, as this frequently causes problems. Registration deadline is October 4, 2018, 5 p.m. If you cancel, we can refund payment minus $10 processing fee before that deadline, but cannot refund anything if you cancel after that date. We reserve the right to cancel this workshop before October 5, in which case we will provide full refund. If you sign up, please show up - repeated failure to provide timely notification of inability to attend can jeopardize future registration opportunities.
Documents and Publications
Contact List
We encourage participants to download the contact list to assist with arranging a rideshare or to get in contact with someone you met at the workshop. Those interested in sharing a ride to the event are marked on the contact list.
DOCUMENT
AUTHOR / SOURCE
WORKSHOP MATERIALS
CCRC Fall 2018 Agenda
PDF, 102KB
Grey Hayes
Central Coast Rangeland Coalition
September 2018
Central Coast Rangeland Coalition Introduction: Workshop on Rangeland Productivity
PDF, 404KB
Larry Ford
Central Coast Rangeland Coalition
October 2018
Grazing Management Practices - their history and relation to the 'Savory' method
PDF, 1.1MB
Marc R. Horney
Central Coast Rangeland Coalition
October 2018
The connection between grazing and soil health: what do we know and what are we learning?
PDF, 1.9MB
Chelsea Carey
Central Coast Rangeland Coalition
October 2018
Understanding Soil Health in California's Annual Rangelands
PDF, 2MB
Toby O'Geen
Central Coast Rangeland Coalition
October 2018
Welcome CCRC - Swanton Pacific Ranch
PDF, 5.6MB
Brian Dietterick
Central Coast Rangeland Coalition
October 2018
PEER-REVIEWED PUBLICATIONS
A global meta-analysis of grazing impacts on soil health indicators
PDF, 1.9MB
Byrnes, R. C., Eastburn, D. J., Tate, K. W., Roche, L. M.
Journal of Environmental Quality, 47:758-765
April 2018
Annual Range Forage Production
PDF, 968KB
University of California, Agriculture and Natural Resources
ANR Publication 8018: 1-12
2016
Aplication of herbivore optimization theory to rangelands of the western United States
PDF, 560KB
Bartolome, J.W.
Ecological Applications, 3(1): 27-29
1993
Multi-paddock grazing on rangelands: why the perceptual dichotomy between research results and rancher experience?
PDF, 890KB
Teague, R., Provenza, F., Kreuter, U., Steffens, T., & Barnes, M.
Journal of Environmental Management, 128: 699-717
2013
Origin, persistence, and resolution of the rotational grazing debate: integrating human dimensions into rangeland research
PDF, 127KB
Briske, D. D., Sayre, N. F., Huntsinger, L., Fernandez-Gimenez, M., Budd, B., & Derner, J.
Rangeland Ecology & Management, 64(4): 325-334
2011
Rotational grazing on rangelands: Reconciliation of perception and experimental evidence
PDF, 415KB
Briske, D. D., Derner, J. D., Brown, J. R., Fublendor, S. D., Teague, W. R., Havstad, K. M., Gillen, R. L., Ash, A. J., Willms, W. D.
Rangeland Ecology & Management, 61(1): 3-17
2008
Rotational Grazing on Rangelands: Synthesis and Recommendations
PDF, 81KB
Brown, J., & Kothmann, M.
Rangelands
October 2009
OTHER INFORMATION
Allan Savory's Explanation of "Time Control"
PDF, 61KB
Allan Savory
The Savory Grazing Method or Holistic Resource Management
1983
Hawkins's 2017 Meta Analysis of Holistic Planned Grazing Should be Retracted
PDF, 4MB
Sheldon Frith
www.regenerateland.com
October 2017
Range Management on the National Forests
PDF, 4.5MB
Jardine, James T., Anderson, Mark
United States Department of Agriculture, Bulletin No. 790
August, 1919
Links
Annual Range Forage Production Map
http://ucanr.maps.arcgis.com/apps/Viewer/index.html?appid=aef4fbf547a34332b92e5216e308d8c5
Swanton Pacific Ranch
https://spranch.calpoly.edu
Questions and Answers
Submit a question on this subject and we'll provide an answer. coastaltraining@elkhornslough.org