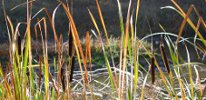 Training
Niche and Needs Assessment
Niche and needs assessment materials
COST: FREE
REGISTRATION FOR THIS PROGRAM IS CLOSED
---
Contact
Grey Hayes
grey@elkhornslough.org
831-274-8700
Sponsors

Coastal Training Program, Elkhorn Slough Natl. Estuarine Research Reserve
Description
See also: Coastal Training Network, Sustainable Human Systems
Here are materials and presentations on niche assessment (aka market analysis) and needs assessment.
Needs Assessment
Definition:
A needs assessment is a systematic investigation of an audience(s) to identify aspects of individual knowledge, skill, interest, attitude and/or abilities relevant to a particular issue, organizational goal, or objective.
Purpose:
The goal of a needs assessment is to design an effective program, product, or service that addresses the group's needs and "wants."
Market Analysis
Definition:
Market Analysis is a term with a broad scope and includes all aspects of a business or service environment. It asks questions about competitors (in our case other groups who provide similar information, products, or services), market structure, regulations or other restrictions, economic trends, technological advances, and numerous other factors that make up the business environment. Typically a market analysis consists of the following phases:
Inventory
Literature and Other Research
Analysis of Inventory
Purpose:
The results of a market research provide a context to determine an organizational or product niche and identify target audiences.
Documents and Publications
Questions and Answers
Submit a question on this subject and we'll provide an answer. coastaltraining@elkhornslough.org