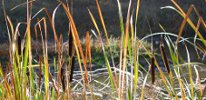 Training
Monterey County Planners Workshop: Coastal Act Protections for Wetlands and Sensitive Habitats
A workshop for Monterey County staff to better understand Coastal Act protections for wetlands and sensitive habitats.
COST: FREE
REGISTRATION FOR THIS PROGRAM IS CLOSED
---
Instructor Information
Ms. Katie Butler
Coastal Planner
California Coastal Commission
Dr. John Dixon
Senior Ecologist
California Coastal Commission
Dr. Jonna Engel
Ecologist
California Coastal Commission
Mr. Mike Watson
Coastal Planner
California Coastal Commission
Contact
Grey Hayes
grey@elkhornslough.org
(831) 274-8700
Sponsors

Coastal Training Program, Elkhorn Slough Natl. Estuarine Research Reserve
Description
See also: Monterey County Planning, Habitat Restoration
This workshop will train Monterey County Planners to better understand about Coastal Commission perspectives and resources for updating Local Coastal Plans and identification, delineation and protections for coastal wetlands and Environmentally Sensitive Habitat Areas (ESHA). Coastal Commission planning/analysis staff will be joined by Commission biologists Jonna Engel and John Dixon as presenters at this event.
Objectives
· Improved understanding of Coastal Commission guidance and related resources for updating Local Coastal Plans, including ESHA issues pertinent to northern Monterey County
· Improved understanding of identification delineation, and protection of Coastal Act protected wetlands and other ESHA, with a focus on northern Monterey County
Format
The workshop will feature indoor and outdoor presentations as well as time for discussion. Field training will take place in the afternoon, and participants must be prepared for short walks over moderately strenuous terrain.
Important Information
This workshop is open only to Monterey County agency staff. For an invitation code, please contact the Director of Coastal Training, Grey Hayes at grey@elkhornslough.org or (831) 274-8700
Elkhorn Slough is subsidizing the cost of this workshop to make the event free to Monterey County employees only. If you sign up, please show up. Otherwise, you will be taking the space of another County employee, wasting funding, materials, etc. Those who do not show up or notify us at least 2 weeks in advance of their absence may not be offered priority enrollment at future such events.
You cannot 'trade' registration or register third parties. Please only sign up yourself. If there are others who you think should attend, please feel free to advertise the event to them, so they can register themselves.
For more information, please feel free to contact Virginia Guhin at: 831-274-8700 or virginia@elkhornslough.org
Documents and Publications
Contact List
We encourage participants to download the contact list to assist with arranging a rideshare or to get in contact with someone you met at the workshop. Those interested in sharing a ride to the event are marked on the contact list.
DOCUMENT
AUTHOR / SOURCE
WORKSHOP MATERIALS
Agenda: Monterey County Planners Workshop Coastal Act Protections for Wetlands and Sensitive Habitats
PDF, 383KB
Grey Hayes
Elkhorn Slough Coastal Training
September 2014
Guidelines for Biological Surveys and Biological Survey Reports for Proposed Development Projects
PDF, 236KB
John Dixon Jonna Engel
California Coastal Commission
May 2012
LCP Update Guide Section 4. Environmentally Sensitive Habitats and Other Natural Resources
PDF, 268KB
California Coastal Commission
State of California Coastal Commission
July 2013
Presentation: Environmentally Sensitive Habitat:Definition, Determination-Delineation, Protection, Challenges/Issues, Tools and Resources
PDF, 2.2MB
Jonna Engel
California Coastal Commission
September 2014
Presentation: LCP Updates and ESHA
PDF, 335KB
Katie Butler Mike Watson
California Coastal Commission
9/15/2014
Presentation: Technical Wetland Delineation
PDF, 1.6MB
John Dixon
California Coastal Commission
9/15/2014
Suggestions for Preparing a Wetland Delineation Report for the California Coastal Commission
PDF, 30KB
Vanessa Metz John Dixon
California Coastal Commission
10-16-06, revised Sept. 2011
Summary of Resource Protection Policies in California's Coastal Zone
PDF, 30KB
John Dixon
California Coastal Commission
05-01-2012
Links
Laafsnap - plant identifier app
http://leafsnap.com/
US Army Corps of Engineers Wetlands Plant List
http://rsgisias.crrel.usace.army.mil/NWPL/
Questions and Answers
Submit a question on this subject and we'll provide an answer. coastaltraining@elkhornslough.org