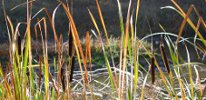 Training
Monterey County Wetlands Workshop
COST: FREE
REGISTRATION FOR THIS PROGRAM IS CLOSED
---
Instructor Information
Ms. Linda Connolly
Environmental Scientist
California Department of Fish and Wildlife, Central Coast Region
Ms. Deborah Hillyard
Conservation Planner
California Department of Fish and Wildlife, Central Coast Region
Mr. Kevin Merk
Principal
KMA, Kevin Merk Associates
Contact
Grey Hayes
grey@elkhornslough.org
(831) 274-8700
Sponsors

Coastal Training Program, Elkhorn Slough Natl. Estuarine Research Reserve
Description
See also: Monterey County Planning, Habitat Restoration
On February 24, 2014, Elkhorn Slough Coastal Training partnered with the California Department of Fish and Wildlife to help Monterey County agency personnel to better understand wetlands and riparian areas and the policies that protect these habitats.
We will continue to build this website as a portal to help participants link to the information they need related to this training- keep checking back!
Documents and Publications
Contact List
We encourage participants to download the contact list to assist with arranging a rideshare or to get in contact with someone you met at the workshop. Those interested in sharing a ride to the event are marked on the contact list.
Links
CDFW Bios Website- maps of sensitive natural resources
http://www.dfg.ca.gov/biogeodata/bios/
National Wetlands Plant List- Arid West (e.g., California- ours) Regional List
http://rsgisias.crrel.usace.army.mil/NWPL/static/cfg/doc/pdl_2013_pub/Regions/pdf/reg_AW_2013v1.pdf
Wetlands Mapper
http://www.fws.gov/wetlands/Data/Mapper.html
Questions and Answers
Submit a question on this subject and we'll provide an answer. coastaltraining@elkhornslough.org