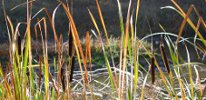 Training
Informing the Clean Water Act: TMDL Regulations near the Elkhorn Slough
The first in a series of six helping NERRS and NOAA associates improve their work taking science to management to improve estuarine water quality and to sustain good water quality over the long term.
Registration Opens:
Deadline to Register:
Cost: FREE
Seats Available: 20 of 20 REGISTER NOW
Please only register for yourself, registration requires a unique email address.
---
Contact
Grey Hayes
grey@elkhornslough.org
831-274-8700
Sponsors

Coastal Training Program, Elkhorn Slough Natl. Estuarine Research Reserve
Description
See also: Science to Decision Making, Sustainable Human Systems
This is part one of six webinars for specialists within the National Estuarine Research Reserve System and NOAA's Coastal Office. This program focuses on work at the Elkhorn Slough helping to improve water quality regulations in water bodies affecting the Elkhorn Slough.
Through this series, and materials and summaries from this series, we hope to increase the understanding of NERRS and the Ocean and NOAA Coastal Office (the new name for the OCRM) about the best, most innovative practices that have been demonstrated to link SWMP water quality data to FWPCA decision making processes.
Documents and Publications
Contact List
We encourage participants to download the contact list to assist with arranging a rideshare or to get in contact with someone you met at the workshop. Those interested in sharing a ride to the event are marked on the contact list.
Links
WebEx Recording SWMP-CWA Webinar #1 5.9.2013
https://mmancusa.webex.com/mmancusa/ldr.php?AT=pb&SP=MC&rID=52358632&rKey=7281640dbcb2eafd
Questions and Answers
Submit a question on this subject and we'll provide an answer. coastaltraining@elkhornslough.org