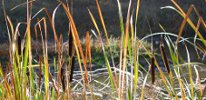 Training
Historical Ecology and Water Quality Presentations to the Central Coast Water Quality Control Board
COST: FREE
REGISTRATION FOR THIS PROGRAM IS CLOSED
---
Instructor Information
Mr. John Haskins
Water Quality Scientist
Elkhorn Slough National Estuarine Research Reserve
Dr. Brent Hughes
David H. Smith Research Conservation Fellow
UCSC
Dr. Kerstin Wasson
Research Coordinator
Elkhorn Slough National Estuarine Research Reserve
Ms. Andrea Woolfolk
Stewardship Coordinator
Elkhorn Slough National Estuarine Research Reserve
Contact
Grey Hayes
grey@elkhornslough.org
831-274-8700
Sponsors

Coastal Training Program, Elkhorn Slough Natl. Estuarine Research Reserve
Description
See also: Elkhorn Slough Water Quality, Polluted Runoff
On March 7, 2014, the Elkhorn Slough National Estuarine Research Reserve (ESNERR) gave two informational presentations to the Central Coast Regional Water Quality Control Board at their public hearing in Salinas, California. Andrea Woolfolk, ESNERR Stewardship Coordinator, presented first 'Historical Ecology of Wetland in the Vicinity of the Elkhorn Slough.' And, John Haskins ESNERR water quality scientist, Brent Hughes, PhD candidate UCSC, and Kerstin Wasson, ESNERR Research Coordinator presented 'Long Term Water Quality Monitoring and Eutrophication Research at Elkhorn Slough.' This website contains the presentations and some of the referenced literature from this portion fo that meeting.
Documents and Publications
Contact List
We encourage participants to download the contact list to assist with arranging a rideshare or to get in contact with someone you met at the workshop. Those interested in sharing a ride to the event are marked on the contact list.
DOCUMENT
AUTHOR / SOURCE
WORKSHOP MATERIALS
Historical Ecology of Wetland in Vicinity of Elkhorn Slough
PDF, 7.1MB
Andrea Woolfolk, Stewardship Coordinator
Elkhorn Slough National Estuarine Research Reserve
March 7, 2014
Long-term water quality monitoring and eutrophication research at Elkhorn Slough
PDF, 2.2MB
John Haskins, Brent Hughes, and Kerstin Wasson
Elkhorn Slough National Estuarine Research Reserve
March 7, 2014
PEER-REVIEWED PUBLICATIONS
Identifying factors that influence expression of eutrophication in a Central California estuary
PDF, 390KB
Brent B. Hughes, John C. Haskins, Kerstin Wasson, Elizabeth Watson
Marine Ecology Progress Series 439: 31-43
October 20, 2011
Informing Olympia oyster restoration: evaluation of factors that limit populations in a California Estuary
PDF, 379KB
Wasson, K
Wetlands 30: 449-459
2010
Recovery of a top predator mediates negative eutrophic effects on seagrass
PDF, 1.6MB
Brent Hughes, Ron Eby, Tim Tinker, Corina Marks, Kenneth Johnson, and Kerstin Wasson
PNAS
2013
Signatures of Restoration and Management Changes in the Water Quality of a Central California Estuary
PDF, 2.1MB
Alison Gee, Kerstin Wasson, Susan Shaw, and John Haskins
Estuaries and Coasts 33:1004–1024
2010
OTHER INFORMATION
Land use in watersheds contributing to Elkhorn Slough
PDF, 7.1MB
Charlie Endris, GIS technician, ESNERR
Elkhorn Slough National Estuarine Research Reserve
January 2014
The Impacts Of Nutrient Loading and Environmental Conditions on the Fish Assemblage and Available Nursery Habitat in Elkhorn Slough
PDF, 6.5MB
Brent Hughes, University of California Santa Cruz Monique Fountain, Elkhorn Slough National Estuarine Research Reserve Aaron Carlisle, Stanford University Matthew Levey, SeaSpatial Consultants Mary Gleason, The Nature Conservancy
The Nature Conservancy and the Elkhorn Slough Foundation
2012
Links
Audio recording of Historical Ecology of Wetland in the Vicinity of Elkhorn Slough
http://www.waterboards.ca.gov/centralcoast/board_info/agendas/2014/march/Item_12/item12.mp3
Audio recording of Long-Term Water Quality Monitoring and Eutrophication Research at Elkhorn Slough
http://www.waterboards.ca.gov/centralcoast/board_info/agendas/2014/march/Item_13/item13.mp3
Elkhorn Slough Restoration: Historical Ecology Tools
http://www.elkhornslough.org/stewardship/historical-ecology-tools/
National Estuarine Research Reserve Water Quality Data
http://cdmo.baruch.sc.edu/
Questions and Answers
Submit a question on this subject and we'll provide an answer. coastaltraining@elkhornslough.org