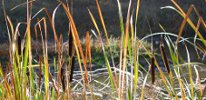 Training
Grazing Management Planning
Grazing management plans are available here for your reference.
COST: FREE
REGISTRATION FOR THIS PROGRAM IS CLOSED
---
Contact
Grey Hayes
grey@elkhornslough.org
831-274-8700
Sponsors
Description
See also: Central Coast Rangeland Coalition, Sustainable Human Systems
This web page offers a number of grazing management plans collected from various sources in order to help others with their analyses and planning.
The Coastal Training Program or Central Coast Rangeland Coalition do not endorse the plans or authors.
Please let us know if you have questions. Also, if you have a grazing management plan that you would like to share, please send it on, and we will be happy to post it.
Documents and Publications
Links
Santa Teresa County Park Grazing Management Plan
http://www.sccvote.org/portal/site/parks/parksarticle?path=%252Fv7%252FParks%2520and%2520Recreation%252C%2520Department%2520of%2520%2528DEP%2529&contentId=e2e243a42da80310VgnVCM10000048dc4a92____
Questions and Answers
Submit a question on this subject and we'll provide an answer. info@elkhornsloughctp.org