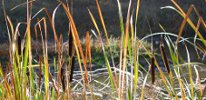 Training
Great Bay Nutrient Monitoring, Partnerships, and Getting Data to Management
COST: FREE
REGISTRATION FOR THIS PROGRAM IS CLOSED
---
Contact
Grey Hayes
grey@elkhornslough.org
831-274-8700
Sponsors

Coastal Training Program, Elkhorn Slough Natl. Estuarine Research Reserve
Description
See also: Science to Decision Making, Sustainable Human Systems
The System-wide Monitoring Program (SWMP) of the Great Bay National Estuarine Research Reserve (GBNERR) is a cornerstone of the nutrient monitoring effort in the Great Bay Estuary. GBNERR partners with the Piscataqua Region Estuaries Partnership (PREP), the New Hampshire Department of Environmental Services (NHDES), and the University of New Hampshire (UNH), among others, to provide data that lead to the understanding and tracking of nutrient effects and trends in the estuary. PREP is a member of the EPA National Estuary Program, established under Section 320 of the federal Clean Water Act (CWA).
Documents and Publications
Contact List
We encourage participants to download the contact list to assist with arranging a rideshare or to get in contact with someone you met at the workshop. Those interested in sharing a ride to the event are marked on the contact list.
Links
Webinar recording
https://mmancusa.webex.com/mmancusa/ldr.php?AT=pb&SP=MC&rID=56015802&rKey=351318b6f40acbd9
Questions and Answers
Submit a question on this subject and we'll provide an answer. coastaltraining@elkhornslough.org