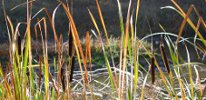 Training
Grazing and Rancher Stewardship for Native Conservation
Where is there common ground between ranchers and conservation lands managers? Can native grasses benefit from certain livestock grazing regimes? Who else cares about the sustainability of central coast rangelands? Join the Central Coast Rangeland Coalition this fall to learn about the answers to these and other questions.
COST: FREE
REGISTRATION FOR THIS PROGRAM IS CLOSED
---
Contact
Grey Hayes
grey@elkhornslough.org
(831) 728-8050
Sponsors
Description
See also: Central Coast Rangeland Coalition, Sustainable Human Systems
The theme of this fall's meeting is finding the common ground between ranchers and conservation lands managers. We want to explore both the tensions and opportunities for collaboration. As we will tour an area managed by East Bay Regional Parks, we will hear from them as well as from ranchers and scientists about the land we will tour. We know that a primary concern of conservation lands managers has been native grasses, and so a portion of the field tour will focus on a hands-on exercise monitoring native grasses. In addition, UC Berkeley's Gareth Fisher will present some of his research, funded by Midpenninsula Regional Open Space District, examining how ranchers' and conservation lands agency interests and goals intersect. And, the group will have a chance to hear about a wealth of scientific research from Dr. Bartolome and his lab at UC Berkeley, examining grassland response to grazing.
As always, the day has plenty of opportunity to meet others who are interested in creating and nurturing sustainable rangelands. The crowd usually includes ranchers, environmental organizations, agency personnel, land owners, scientists, and the occasional elected official staff person. You'll undoubtedly learn something from someone you don't normally get to hear from.
There is no cost to register, but $10 donations are encouraged at the door, to help defray lunch and other expenses. We encourage registration so that we know how many to expect.
Documents and Publications
Contact List
We encourage participants to download the contact list to assist with arranging a rideshare or to get in contact with someone you met at the workshop. Those interested in sharing a ride to the event are marked on the contact list.
Questions and Answers
Submit a question on this subject and we'll provide an answer. info@elkhornsloughctp.org