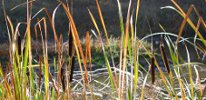 Training
Ecology of the California Red-legged Frog for CDFW
**Note: this workshop is open only for employees of the California Department of Fish and Wildlife, a core partner of Elkhorn Slough Coastal Training
Quotes from last year's workshop participants:
"I really appreciate the opportunity to take free-for-CDFW trainings! The Coastal Training Program often has interesting classes that are unfortunately out of my price-range, but my supervisor is willing to approve just about any free training for me."
"The training was fantastic. My most favorite training by far. I learned so much I don't know where to begin. After graduating from college in wildlife and then finding a position with CDFW sometimes I feel they expect you to know everything about all animals without giving us adequate training. I appreciate this class and the presenters (experts in their field) willingness to share their knowledge. It is refreshing. I cannot thank them enough and CTP for the opportunity...truly."
COST: $0.00
Payable by check to Elkhorn Slough Foundation
Payable by credit card (online)

REGISTRATION FOR THIS PROGRAM IS CLOSED
---
Instructor Information
Mr. Greg Tatarian
Wildlife Biologist
Wildlife Research Associates
Ms. Trish Tatarian
Biologist
Wildlife Research Associates
Contact
Grant Lyon
grant@elkhornslough.org
(831) 274-8700
Sponsors

Coastal Training Program, Elkhorn Slough Natl. Estuarine Research Reserve
Description
See also: California Red Legged Frog, Habitat Restoration
**Note: this workshop is open only for employees of the California Department of Fish and Wildlife, a core partner of Elkhorn Slough Coastal Training
Workshop Objectives:
This is a great opportunity for CDFW staff to receive training in species identification, field sampling techniques, and the habitat requirements of the California red-legged frog (CRF). Workshop information will be useful for evaluating CRF habitats, assessing potential impacts from projects within the range of CRF, conservation planning, and for educational outreach to agricultural producers and others who are considering projects that may impact CRLF. The instructors will cover only minor regulatory and permitting information in this workshop.
Workshop Details:
Workshop registration includes a classroom session and afternoon field component on May 3. Registration also includes attendance at a night time field training sessions on the evening of May 3. Night training is conducted from 8:00 pm until midnight at a site near the indoor venue, on Contra Costa Water District land.
Personal vehicles are required for traveling to the site, and we require signature of a liability waiver, which we will provide after registration. During the evening field training, instructors will train participants on decontamination techniques, detecting frog eye shine, and capturing, handling, sexing, and measuring tadpoles and/or adult frogs. Please review the "Read Me CRF - Field Preparation" and "Criteria for the Selection and Use of Light Sources and Binoculars forVisual Encounter Surveys of Adult and Sub-Adult California Red-legged Frogs (Rana draytonii") documents on the Coastal Training program website for important information regarding the field sessions and the required and suggested equipment. This is especially important as suitable binoculars and SPECIFIC FLASHLIGHTS ARE HIGHLY RECOMMENDED FOR THE TRAINING, and it MAY TAKE TIME to locate one.
Workshop Format:
May 3 Classroom Session (8:00am-2:00pm) - An overview of the ecology of the California red-legged frog, including biology and management of the species. Meet at the Robert Livermore Community Center.
May 3 Afternoon Session (2:00pm-6:00pm) - Field trip to Contra Costa Water District's Los Vaqueros Watershed Lands (http://www.ccwater.com/losvaqueros/): Hands-on training in habitat requirements and assessment, pond designs, equipment demonstrations, tadpole identification and survey techniques. Personal vehicles required to travel to field site and liability waiver required.
May 3 Night Field Practicum (8:00pm-midnight) - Your registration includes optional attendance at a field training sessions at Los Vaqueros. Trish and Greg will demonstrate USFWS survey methodology, as well as catching, handling, sexing and measuring adult frogs. Students can then practice these methods at various ponds.
Please note: this workshop is not intended to satisfy all requirements to obtain CRF permits from the U.S. Fish and Wildlife Service. Please contact that agency for further information if obtaining a Federal permit is your goal.
In order to reduce the teacher: student ratio, we are limiting activity in the ponds during the field session practice to 12 participants. After pre-registering, please email us to let us know if you want to attend the evening field training practicum.
Important Information
Elkhorn Slough is subsidizing the cost of this workshop to make the event free to Department employees only. If you sign up, please show up. Otherwise, you will be taking the space of another Department employee, wasting funding, materials, etc. Those who do not show up or notify us well in advance of their absence may not be offered priority enrollment at future such events.
Due to cost constraints, we will not be serving refreshments or lunch for this event: please bring your own lunch, coffee, water, etc.
Participants are expected to attend the full daytime training portion.
Attendance in the evening is optional. After registering, please inform Grey if you would like to attend the night time field training component.
Documents and Publications
Contact List
We encourage participants to download the contact list to assist with arranging a rideshare or to get in contact with someone you met at the workshop. Those interested in sharing a ride to the event are marked on the contact list.
DOCUMENT
AUTHOR / SOURCE
WORKSHOP MATERIALS
Criteria for the Selection and Use of Light Sources and Binoculars for Visual Encounter Surveys of Adult and Sub-Adult California Red-legged Frogs (Rana draytonii)
PDF, 112KB
Trish Tatarian and Greg Tatarian

2017
Handouts: California Red-legged Frog Workshop
PDF, 364KB
Trish Tatarian and Greg Tatarian
Elkhorn Slough Coastal Training Program
2015
Important preparation instructions for Ecology of the California Red-legged Frog for CDFW
PDF, 15KB
Dr. Grey Hayes
Elkhorn Slough Coastal Training Program
April 2017
Selected and annotated bibliography of the California red-legged frog (Rana draytonii)
DOC, 122KB
Trish Tatarian and Greg Tatarian
Elkhorn Slough Coastal Training Program
February 2017
PEER-REVIEWED PUBLICATIONS
A Monograph of the American Frogs of the Genus Rana
PDF, 5.5MB
G. A. Boulenger
Cf. Bull. Soc. Zool. France, 111
1918
A Technique for Locating and Recovering Radiotransmitters at Close Range
PDF, 16KB
Gary M. Fellers Patrick Kleeman
Herpetological Review, 2003, 34(2), 123
2003
Activities of four frog skin-derived antimicrobial peptides (temporin-1DRa, temporin-1Va and the melittin-related peptides AR-23 and RV-23) against anaerobic bacteria
PDF, 94KB
Edit Urban, Elisabeth Nagy, Tibor Pal, Agnes Sonnevend, J. Michael Conlon
International Journal of Antimicrobial Agents, 29:317-321
2007
Amphibian chytrid fungus (Batrachochytrium Dendrobatidis) in coastal and montane California, USA Anurans
PDF, 574KB
Gary M. Fellers, Rebecca A. Cole, David M. Reinitz, and Patrick M. Kleeman
Herpetological Conservation and Biology 6(3):383–394
2011
Biochemical identification of red-legged frogs, Rana aurora draytonii (Ranidae) at Duckwater, Nevada
PDF, 374KB
D. Green
The Southwestern Naturalist, 30(4):614-616
1985
Biochemical, behavioral, and body size differences between Rana aurora aurora and R. a. draytoni
PDF, 669KB
M.P. Hayes and M. M. Miyamoto
Copeia, 4:1018-1022
1984
Bullfrogs, disturbance regimes, and the persistence of California red-legged frogs
PDF, 2.7MB
Rebecca A. Doubledee, Erik B. Muller, Roger M. Nisbet
Journal of Wildlife Management, 67(2):424-438
2003
California Red-Legged Frog (Rana draytonii) Movement and Habitat Use: Implications for Conservation
PDF, 2MB
Gary M. Fellers and Patrick M. Kleeman
Journal of Herpetology, 41(2):276-286
2007
Cattle Grazing Mediates Climate Change Impacts on Ephemeral Wetlands
PDF, 193KB
Christopher R. Pyke and Jaymee Marty
Conservation Biology 19(5):1619-1625
2005
Characteristics of some new Reptiles in the Museum of the Smithsonian Institution
PDF, 2.2MB
Spencer F. Baird and Charles Girard
Proceedings of the Academy of Natural Sciences of Philadelphia, 6
1852
Community ecology of invasions: direct and indirect effects of multiple invasive species on aquatic communities
PDF, 5.4MB
Daniel L. Preston, Jeremy S. Henderson, and Pieter T. J. Johnson
Ecology, 93(6):1254-1261
2012
Decline of Ranid Frog Species in Western North America: Are Bullfrogs (Rana catesbeiana) Responsible?
PDF, 542KB
Marc P. Hayes and Mark R. Jennings
Journal of Herpetology, 20(4):490-509
1986
Declines of the California red-legged frog: climate, UV-B, habitat, and pesticides hypothesis
PDF, 201KB
Carlos Davidson, H. Bradley Shaffer, and Mark R. Jennings
Ecological Applications, 11(2):464-479
2001
Declining downwind: amphibian population declines in California and historical pesticide use
PDF, 196KB
Carlos Davidson
Ecological Applications, 14(6):1892-1902
2004
Diurnal Versus Nocturnal Surveys for California Red-Legged Frogs
PDF, 1.3MB
Gary M. Fellers and Patrick M. Kleeman
Journal of Wildlife Management, 70(6):1805-1808
2006
Do a threatened native amphibian and its invasive congener differ in response to human alteration of the landscape?
PDF, 199KB
Antonia D'Amore, Valentine Hemingway, Kerstin Wasson
Biological Invasions, 12(1):145-154
2010
Effects of Introduced Bullfrogs, Rana catesbeiana, on the Native Frogs of the San Joaquin Valley, California
PDF, 152KB
Peter B. Moyle
COPEIA, 1:18-22
1973
Effects of Introduced Mosquitofish and Bullfrogs on the Threatened California Red-Legged Frog
PDF, 2.1MB
Sharon P. Lawler, Deborah Dritz, Terry Strange and Marcel Holyoak
Conservation Biology, 13(3):613-622
1999
Effects of the herbicide imazapyr on juvenile Oregon spotted frogs
PDF, 218KB
Amy E. Yahnke, Christian E. Grue, Marc P. Hayes, and Alexandra T. Troian
Environmental Toxicology and Chemistry, 32(1):228-235
2013
Epizootiology of Sixty-Four'‡' Amphibian Morbidity and Mortality Events in the USA, 1996-2001
PDF, 737KB
D. Earl Green, Kathryn A. Converse, and Audra K. Schrader
Annals of the New York Academy of Sciences, 969: 323-339
2002
Evaluation of a radio-belt for ranid frogs
PDF, 136KB
Galen Rathbun and Thomas Murphey
Herpetological Review 27(4):187-189
1996
Evidence from peptidomic analysis of skin secretions that the red-legged frogs, Rana aurora draytonii and Rana aurora aurora, are distinct species
PDF, 446KB
J. Michael Conlon, Nadia Al-Ghafaria, Laurent Coquetb, Jerome Leprince, Thierry Jouenne, Hubert Vaudry, Carlos Davidson
Peptides, 27:1305-1312
2006
Farm practices for food safety: an emerging threat to floodplain and riparian ecosystems
PDF, 456KB
Sasha Gennet, Jeannette Howard, Jeff Langholz, Kathryn Andrews, Mark D. Reynolds, and Scott A. Morrison
Frontiers in Ecology and the Environment, 11(5):236-242
2013
History and status of the California red-legged frog in the Sierra Nevada, California, USA
PDF, 2.3MB
Sean J. Barry and Gary M. Fellers
Herpetological Conservation and Biology, 8(2):456-502
2013
Importance of Native Amphibians in the Diet and Distribution of the Aquatic Gartersnake (Thamnophis atratus) in the San Francisco Bay Area of California
PDF, 452KB
D. Preston and P. Johnson
Journal of Herpetology, 46(2):221-227
2012
Invasive species shifts onto genetic resource partitioning and microhabitat use of a threatened native amphibian
PDF, 164KB
Antonia Amore, Eric Kirby, Michael McNicholas
Aquatic Conservation: Marine and Freshwater Ecosystems 19: 534-541
2009
Landscape epidemiology of Batrachochytrium dendrobatidis in central California
PDF, 466KB
Gretchen E. Padgett-Flohr and Robert L. Hopkins, II
Ecography 33:688-697
2010
Managing rangelands to benefit California red-legged frogs and California tiger salamanders
PDF, 6.7MB
Ford, L.D., P.A. Van Hoorn, D.R. Rao, N.J. Scott, P.C. Trenham, and J.W. Bartolome.
Alameda Resource Conservation District
2013
Microhabitat use of the California Red-legged frog and introduced bullfrog in a seasonal marsh
PDF, 551KB
David G. Cook and Mark R. Jennings
Herpetologica 63(4):430-440
2007
Molecular and Ecological Characterization of Extralimital Populations of Red-Legged Frogs from Western North America
PDF, 2.6MB
Gregory B. Pauly, Santiago R. Ron, and Lance Lerum
Journal of Herpetology, Vol. 42, No. 4, 668-679
2008
Movement patterns of California red-legged frogs in an inland California environment
PDF, 748KB
Patricia J. Tatarian
Herpetological Conservation and Biology 3(2):155-169
March 30, 2008
Overwintering Tadpoles in the California Red-legged Frog (Rana aurora draytonii)
PDF, 218KB
Gary M. Fellers, Alan E. Launer, Galen Rathbun, Steve Bobzien, Jeff Alvarez, David sterner, Richard B. Seymour, and Michael Westphal
Herpetological Review 32(3):156-157
2001
Pathogenicity of Batrachochytrium Dendrobatidis in Two Threatened California Amphibians: Rana draytonii and Ambystoma californiense
PDF, 367KB
Gretchen E. Padgett-Flohr
Herpetological Conservation and Biology 3(2):182-191
2008
Peptide defenses of the Cascades frog Rana cascadae: implications for the evolutionary history of frogs of the Amerana species group
PDF, 467KB
J. Michael Conlon,, Ahmed al-Dhaheri, Eissa al-Mutawa, Rokaya al-Kharrge, Eman Ahmed, Jolanta Kolodziejek, Norbert Nowotny, Per F. Nielsen, Carlos Davidson
Peptides 28:1268-1274
2007
Population declines lead to replicate patterns of internal range structure at the tips of the distribution of the California red-legged frog
PDF, 1.8MB
Jonathan Q. Richmond, Adam R. Backlin, Patricia J. Tatarian, Ben G. Solvesky, and Robert N. Fisher
Biological Conservation 172:128-137
2014
Population genetics of the frog-killing fungus Batrachochytrium dendrobatidis
PDF, 1.4MB
Jess A. T. Morgan, Vance T. Vredenburg, Lara J. Rachowicz, Roland A. Knapp, Mary J. Stice, Tate Tunstall, Rob E. Bingham, John M. Parker, Joyce E. Longcore, Craig Moritz, Cheryl J. Briggs, and John W. Taylor
Pnas 104(34):13845-13850
2007
Pre-1900 overharvest of California red-legged frog (Rana aurora draytonii): The inducement for bullfrog (Rana catesbeiana) introduction
PDF, 326KB
Mark R. Jennings and Marc P. Hayes
Herpetologica 41(3):94-103
1985
Rana draytonii dispersal
PDF, 84KB
Mark Allaback, David M. Laabs, David S. Keegan, Josh D. Harwayne
Herpetological Review, 41(2), 204-206
2010
Rana draytonii (California red-legged frog). Behavior- dangers of drift fences
PDF, 62KB
Galen Rathbun, Norman Scott, Thomas Murphey
Herpetological Review 28(2):85-86
1997
Rana Draytonii (California Red-legged Frog). Egg Predation.
PDF, 39KB
Galen Rathbun
Herpetological Review 29(3):165
1998
Rana draytonii (California Red-Legged Frog). Predation.
PDF, 216KB
Jeff Wilcox
Herpetological Review 42(3):414-415
2011
Rana Draytonii (California Red-legged Frog). Prey.
PDF, 16KB
Marc P. Hayes, Mark R. Jennings, Galen B. Rathbun
Herpetological Review 37(4):449
2006
Relocations of California red-legged frogs, California, USA.
PDF, 1.2MB
Dana Bland
Re-introduction News, Newsletter of the Re-introduction Specialist Group, IUCN, No. 25:12-13.
2006
Reproductive Interference by an Invasive Species an Evolutionary Trap?
PDF, 130KB
Antonia D'Amore, Eric Kirby, Valentine Hemingway
Herpetological Conservation and Biology 4(3):325-330
2009
Spatial Tests of the Pesticide Drift, Habitat Destruction, UV-B, and Climate-Change Hypotheses for California Amphibian Declines
PDF, 2.8MB
Carlos Davidson, H. Bradley Shaffer, and Mark R. Jennings
Conservation Biology, 16(6):1588-1601
2002
Species boundaries, phylogeography and conservation genetics of the red-legged frog (Rana aurora/draytonii) complex
PDF, 379KB
H. Bradley Shaffer, G. M. Fellers, S. Randal Voss, J. C. Oliver, and Gregory B. Pauly
Molecular Ecology 13(9):2667-2677
2004
Sympatry in California tiger salamander and Californa red-legged frog breeding habitat within their overlapping range
PDF, 145KB
Jeff A. Alvarez, Mary A. Shea, Jeffery T. Wilcox, Mark L.. Allaback, Sarah M. Foster, Gretchen E. Padgett-Flohr, and Jennifer L. Haire
California Fish and Game 99(1):42-48
2013
Terrestrial activity and conservation of adult California red-legged frogs Rana aurora draytonii in coastal forests and grasslands.
PDF, 349KB
John B. Bulger, Norman J Scott, Jr. and Richard B. Seymour
Biological Conservation 110:85-95
2002
The Decline of Amphibians in California's Great Central Valley
PDF, 1.8MB
Robert N. Fisher and H. Bradley Shaffer
Conservation Biology 10(5):1387-1397
1996
Translocation of California red-legged frogs (Rana aurora draytonii)
PDF, 789KB
Galen Rathbun and Julie Schneider
Wildlife Society Bulletin 29(4):1300-1305
2001
Variation in Pesticide Tolerance of Tadpoles among and within Species of Ranidae and Patterns of Amphibian Decline
PDF, 1.2MB
Christine M. Bridges and Raymond D. Semlitsch
Conservation Biology 14(5):1490-1499
2000
Vocal Sac Variation among Frogs of the Genus Rana from Western North America
PDF, 1.6MB
Marc P. Hayes and Dana M. Krempels
Copeia 4:927-936
1986
Water Temperatures in a California Red-legged breeding pond
PDF, 624KB
Galen Rathbun
Immediate Science Ecology 1: 7-11
September 5, 2012
OTHER INFORMATION
A Standardized Protocol for Surveying Aquatic Amphibians
PDF, 410KB
Gary M. Fellers Kathleen L. Freel
National Park Service
May 1995
Amphibian and Reptile Species of Special Concern in California
PDF, 5.3MB
Mark R. Jennings and Marc P. Hayes
Final Report for California Department of Fish and Game
1994
Amphibians and Reptiles in Nevada
PDF, 8.7MB
Jean M. Linsdale
Proceedings of the American Academy of Arts and Sciences 73(8):197-257
1938
Breeding Pond Dispersal of Interacting California Red-Legged Frogs (Rana draytonii) and American Bullfrogs (Lithobates catesbeianus) of California: A Mathematical Model of Management Strategies
PDF, 6.3MB
Iris Acacia Gray
A Thesis Presented to The Faculty of Humboldt State University
2009
CRLF Survey Appendix D - Site Assessment
PDF, 23KB
US Fish and Wildlife Service
US Fish and Wildlife Service
2005
Endangered and Threatened Wildlife and Plants; Determination of Threatened Status for the California Red-Legged Frog
PDF, 154KB
US Fish and Wildlife Service
USFWS Federal Register, Vol. 61, No. 101, 25813-25833
May 23, 1996
Frog & Toad Calls of the Pacific Coast
PDF, 8KB
Carlos Davidson


Habitat characteristics of California red-legged frog (Rana draytonii): ecological differences between eggs, tadpoles, and adults in a coastal brackish and freshwater system
PDF, 2.4MB
Dawn Kathleen Reis
A Thesis Presented to San Jose State University
December 1999
Light Source and Binoculars for Visual Encounter Surveys of Adult California Red-legged Frogs
PDF, 96KB
Trish Tatarian Greg Tatarian Norman Scott

September 2012
Management Guidlines for the California Red-Legged Frog
PDF, 188KB
Drs. Galen Rathbun and Norman Scott
Elkhorn Slough Coastal Training Program
February 2009
Microhabitat use and reproductive success of the California Red-legged frog (Rana aurora draytonii) and bullfrog (Rana catesbeiana) in an ephemeral marsh
PDF, 6.6MB
David Cook
Sonoma State University thesis
1997
Problems and opportunities managing invasive bullfrogs: is there any hope?
PDF, 204KB
Adams, M. J. and C. A. Pearl
Biological invaders in inland waters: Profiles, distribution, and threats. F. Gherardi, editor. Springer Publication Company, New York. 734 pp.
2007
Reports of the decline of Mark Twain's
PDF, 4.3MB
Robert L. Bugg
Sustainable Agriculture: The Newsletter of the University of California Sustainable Agriculture Research and Education Program, Vol. 19, No. 1
2007
Response of California Red-legged Frogs to Removal of Non-Native Fish
PDF, 26KB
Jeff A. Alvarez, Carissa Dunn, Andrea F. Zuur
Transactions of the Western Section of the Wildlife Society, 9-12
2002-2003
Revised Guidence on Site Assessments for California Red Legged Frog
PDF, 143KB
US Fish and Wildlife
US Fish and Wildlife
August 2005
Status of the California red-legged frog and California tiger salamander at Concord Naval Weapons Station, California
PDF, 633KB
Eric W. Stitt and Giselle T. Downard
Transactions of the Western Section of The Wildlife Society 36:32-39
2000
Stockpond management for the benefit of California red-legged frog
PDF, 101KB
Norman Scott Galen Rathbun Trish Tatarian

2013
The Amphibian Tree of Life
PDF, 9.2MB
Darrel R. Frost, Taran Grant, Julian Faivovich, Raoul H. Bain, Alexander Haas, Celio F.B. Haddad, Rafael O. De Sa, Alan Channing, Mark Wilkinson, Stephen C. Donnellan, Christopher J. Raxworthy, Johnathan A. Campbell, Boris L. Blotto, Paul Moler, Robert C. Drewes, Ronald A. Nussbaum, John D. Lynch, David M. Green, and Ward C. Wheeler
Bulletin of the American Museum of Natural History No. 297
2006
Links
California Red-Legged Frog Sounds
http://www.californiaherps.com/frogs/pages/r.draytonii.sounds.html
California red-legged frog sounds, pictures, and information
http://www.californiaherps.com/frogs/pages/r.draytonii.html
Center for North American Herpetology - California Herp Checklist
http://www.cnah.org/namesList.aspx?stateId=5&listType=stateList&orderId=0
EPA- Pesticide Effects Determinations for the California Red-legged Frog and other California Listed Species
http://www.epa.gov/espp/litstatus/effects/redleg-frog/
Recovery Plan for the California Red-legged Frog (Rana draytonii)
http://ecos.fws.gov/docs/recovery_plan/020528.pdf
Settlement will Safeguard Endangered California Frog from Pesticides
http://www.biologicaldiversity.org/news/press_releases/2013/red-legged-frog-pesticides11-04-2013.html
Solano County CRLF Translocation Project
https://wra-ca.com/ridge-top-ranch-optimizing-mitigation-bank-value/
USFWS: Revised Guidance on Site Assessments and Field Surveys for the California Red-legged Frog
https://www.fws.gov/sacramento/es/survey-protocols-guidelines/documents/crf_survey_guidance_aug2005.pdf
Questions and Answers
Submit a question on this subject and we'll provide an answer. coastaltraining@elkhornslough.org