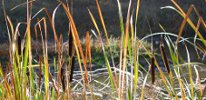 Training
Protecting Critters on Both Sides of the Fence: Practical Techniques for Protecting Livestock and Carnivores - Central Coast Rangeland Coalition Spring 2015 Membership Meeting
Description coming soon- this meeting will focus on non lethal means of reducing predator impacts on livestock.
COST: $35.00
Payable by check to Elkhorn Slough Foundation
Payable by credit card (online)

REGISTRATION FOR THIS PROGRAM IS CLOSED
---
Instructor Information
Dr. Stewart Breck
Research Wildlife Biologist
United States Department of Agriculture Animal and Plant Health Inspection Service
Ms. Leslie Dorrance
Conservation Grazing Manager
Santa Lucia Conservancy
Dr. Marc Kenyon
Senior Environmental Scientist
California Department of Fish and Wildlife
Mr. Dan Macon
Livestock and Natural Resources Advisor
UC Cooperative Extension
Mr. Kelly Mulville
Director of Farming
Paicines Ranch
Mr. Allan Renz
Rancher
Renz Livestock
Dr. Veronica Yovovich
Wildlife Biologist

Contact
Grey Hayes
grey@elkhornslough.org
831-274-8700
Sponsors

Coastal Training Program, Elkhorn Slough Natl. Estuarine Research Reserve
Description
See also: Central Coast Rangeland Coalition, Sustainable Human Systems
California is home to a unique combination of working landscapes and open spaces. This combination of features can put livestock and carnivores in conflict. The upcoming CCRC workshop seeks to generate tools for mitigating these conflicts by focusing on non-lethal preventative strategies for successfully raising livestock alongside carnivores. We will be hearing from livestock operators, agency personnel, and biologists, who will give us insight into carnivore natural history and practical solutions for avoiding conflict. We hope you will bring your own questions and constructive strategies to share with the group.
Objectives
· Increase understanding of carnivore natural history and the broader context for livestock-carnivore conflict.
· Explore new approaches to existing tools.
· Discuss the nuts and bolts of applying preventative strategies to your own unique situation.
Topics To Discuss
· Puma and coyote natural history
· Livestock guarding animals
· Electric fences and turbo-fladry
· Flexible stocking management approaches
· Grazing agreements and compensation programs
· California Department of Fish and Wildlife tools for carnivore losses
Important Registration Notes:
Please note -you can pre-register via this website, but your registration will not be finalized until we receive your registration fee of $30. Payment can be either in the form of a credit card or a check made payable to the Elkhorn Slough Foundation and sent to:
Elkhorn Slough Foundation
ATTN: Grey Hayes
1700 Elkhorn Road
Watsonville, CA 95076
Deadline for payment is 5 p.m. Tuesday, March 24, 2015. If we have not received your payment at that time, your place may be forfeit to someone on our waiting list. Cancellations prior to that date will receive a refund of payment minus a $10 processing fee. We cannot refund any money if you cancel after March 24. We reserve the right to cancel the workshop prior to March 26, 2015; in that event, we will give full refunds.
We do not allow third party registration- register only yourself! Registration is email sensitive; registering others frequently results in cancellation, missed communication, and other issues.
We also do not allow registration 'trading,' even to persons within the same organization.
Please let us know as soon as you know if you have registered and cannot attend as there is usually an extensive waiting list for our trainings and we use substantial funds to subsidize workshop expenses, helping to make them more affordable.
Documents and Publications
Contact List
We encourage participants to download the contact list to assist with arranging a rideshare or to get in contact with someone you met at the workshop. Those interested in sharing a ride to the event are marked on the contact list.
DOCUMENT
AUTHOR / SOURCE
WORKSHOP MATERIALS
Agenda: Protecting Critters on Both Sides of the Fence: Practical Techniques for Protecting Livestock and Carnivores
PDF, 276KB
Grey Hayes
Elkhorn Slough Coastal Training Program
April 2015
Big Dogs, Hot Fences and Fast Sheep: A Rancher's Perspective on Predator Protection
PDF, 2.5MB
Dan Macon
Flying Mule Farm and UC Sierra Foothill Research and Extension Center
April 2015
Carnivores of the Central Coast
PDF, 1.6MB
Veronica Yovovich
UC Santa Cruz Environmental Studies
April 2015
Improving Adaptive Deterrent Strategies for Predaton Management
PDF, 5.2MB
Stewart Breck, Carnivore Ecologist
USDA-­‐WS-­‐National Wildlife Research Center
April 2015
Predators and Policies
PDF, 7.1MB
Marc Kenyon, Senior Environmental Scientist
California Department of Fish and Wildlife
April 2015
OTHER INFORMATION
Coyotes in Towns and Suburbs
PDF, 123KB
Wildlife Services
APHIS
Dec 2011
Livestock Protection Dogs Factsheet
PDF, 129KB
Wildlife Services
APHIS
October 2010
LIVESTOCK PROTECTION DOGS ON PRIVATE LANDS: Protecting Sheep From Predators
PDF, 273KB

APHIS
August 2014
Livestock Protection Dogs on Public Lands - Brochure
PDF, 908KB

APHIS

Nonlethal Management of Wildlife Damage
PDF, 161KB
Wildlife Services
APHIS
October 2010
Predator Damage Management
PDF, 33KB
APHIS
National Wildlife Research Center
2013
Links
APHIS Publication - • Livestock Protection Dogs on Private Lands (PA#2110) brochure
http://www.aphis.usda.gov/publications/wildlife_damage/content/printable_version/LPD_PrivateLands_Brochure.pdf
APHIS Publication- Predator Damage Management 2012 factsheet
http://www.aphis.usda.gov/publications/wildlife_damage/2012/nwrc/WS_Research_protect_livestock-7.pdf
APHIS Wildlife Damage Publications
http://www.aphis.usda.gov/publications/aphis_pubs.php?ndx=4&fltr=Wildlife%20Damage
Turbo-fladry - report on efficacy in reducing predator impacts to livestock
http://www.nrcs.usda.gov/Internet/FSE_DOCUMENTS/nrcs144p2_042099.pdf
Questions and Answers
Submit a question on this subject and we'll provide an answer. coastaltraining@elkhornslough.org