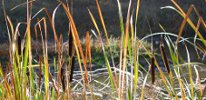 Training
Big Basin: Why Management Matters in Old Growth and for Marbled Murrelet
COST: FREE
REGISTRATION FOR THIS PROGRAM IS CLOSED
---
Contact
Grey Hayes
ghayes@ucsc.edu
(831) 728-8050
Sponsors

Coastal Training Program, Elkhorn Slough Natl. Estuarine Research Reserve
Description
See also: Protected Lands Management, Habitat Restoration
We explore the connection between protected areas management and biodiversity in the old growth coast redwood system at California's first State Park. Presentations by and participant interview of State Parks Ecologist Portia Halbert reveals management-biodiversity connections with an endangered sea bird- marbled murrelet. We build on course material about reserve design and threats to natural resources to answer such questions as:
Is Big Basin State Park well designed to support the biological diversity targeted with its original acquisition?
What are conservation targets within Big Basin State Park?
What are the threats to these targets?
Is natural resource management targeting the root causes of the threats?
The class will explore new ground in this class by exploring monitoring and policy. Two questions pertain to this:
How does State Parks monitor the success of their management practices?
What policies compel State Parks to expend resources on natural resource management?
Documents and Publications
Contact List
We encourage participants to download the contact list to assist with arranging a rideshare or to get in contact with someone you met at the workshop. Those interested in sharing a ride to the event are marked on the contact list.
Links
Big Basin State Park
http://www.bigbasin.org/
California Public Resources Code Governing State Parks
http://www.leginfo.ca.gov/cgi-bin/displaycode?section=prc&group=05001-06000&file=5001-5019.5
Coast Redwoods
http://www.savetheredwoods.org/education/coastredwood.shtml
Questions and Answers
Submit a question on this subject and we'll provide an answer. coastaltraining@elkhornslough.org