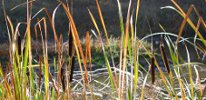 Training
What is and isn't protected on working lands?
COST: FREE
REGISTRATION FOR THIS PROGRAM IS CLOSED
---
Contact
Grey Hayes
coastalprairie@aol.com
831-728-8050
Sponsors

Coastal Training Program, Elkhorn Slough Natl. Estuarine Research Reserve
Description
See also: Protected Lands Management, Habitat Restoration
In this class, we explore how working lands may or may not protect biological diversity. Two major types of working lands - livestock and timber production areas - commonly occur across the planet as well as here on the central coast of California. What isn't protected on these lands that is on other types of protected lands, such as parks or in wilderness areas?
Documents and Publications
Contact List
We encourage participants to download the contact list to assist with arranging a rideshare or to get in contact with someone you met at the workshop. Those interested in sharing a ride to the event are marked on the contact list.
DOCUMENT
AUTHOR / SOURCE
WORKSHOP MATERIALS
Lecture 6: What is and isn't protected on working lands
PDF, 0B
Grey Hayes
ENVS 196 UCSC
August 2013
PEER-REVIEWED PUBLICATIONS
Disturbance, Resources, and Exotic Plant Invasion: Gap Size Effects in a Redwood Forest
DOC, 279KB
Blair, B, Letourneau, D, Bothwell, S, Hayes, G
Madrono 57: 11-19
2010
Finding solutions for bird restoration and livestock management: comparing grazing exclusion levels
PDF, 298KB
Nelson, KS; Gray, EM; Evans, JR
Ecological Applications 21: 547-554
2011
OTHER INFORMATION
The Report of the Ecological Society of America Committee on the Scientific Basis for Ecosystem Management.
PDF, 2.5MB
CHRISTENSEN, N.L., BARTUSKA, A.M., CARPENTER, S., D'ANTONIO, C.M., FRANCIS, R., FRANKLIN, J.F., MACMAHON, J.A., NOSS, R.F., PARSONS, D.J., PETERSON, C.H., TURNER, M.G. & WOODMANSEE, R.G.
Ecological Applications 6: 665-691
1996
Questions and Answers
Submit a question on this subject and we'll provide an answer. coastaltraining@elkhornslough.org