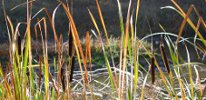 Training
Western Pond Turtle Workshop 2012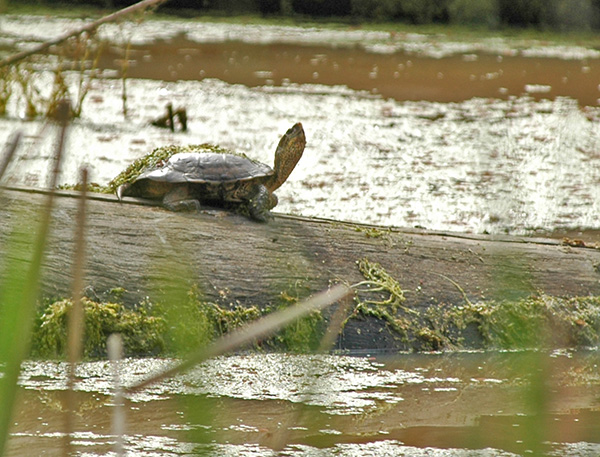 The Elkhorn Slough Coastal Training Program was pleased to announce the Western Pond Turtle 2012 Workshop August 16, 2012 from 8:30 a.m. - 5 p.m., at the Elkhorn Slough National Estuarine Research Reserve.
COST: $285.00
Payable by check to Elkhorn Slough Foundation
Payable by credit card (online)

REGISTRATION FOR THIS PROGRAM IS CLOSED
---
Instructor Information
Dr. David Germano
Professor of Biology
California State University Bakersfield
Dr. Galen Rathbun
Research Associate
California Academy of Sciences
Contact
Virginia Guhin
virginia@elkhornslough.org
831-274-8700
Sponsors

Elkhorn Slough Coastal Training
Description
See also: Western Pond Turtle, Habitat Restoration
The Western Pond Turtle 2012 Workshop was held on August 16, 2012 from 8:30 a.m. - 5 p.m., at the Elkhorn Slough National Estuarine Research Reserve.
The workshop fee was $285. Training consisted of classroom lecture and lab with hands-on opportunities with the species. Because our training site does not have easy access to natural populations in the field, this training did not have a field-based training component.
Intended audience included: biological consultants, land managers, researchers, and regulatory agency personnel.
The workshop featured experts Drs. David Germano and Galen Rathbun. The instructors presented a comprehensive training on the biology and conservation of the western pond turtle (Actinemys marmorata). The instructors have published reports and papers on the ecology and life history of this species, and their lecture summarizes the knowledge base on the ecology and conservation of the species.
Documents and Publications
Contact List
We encourage participants to download the contact list to assist with arranging a rideshare or to get in contact with someone you met at the workshop. Those interested in sharing a ride to the event are marked on the contact list.
DOCUMENT
AUTHOR / SOURCE
WORKSHOP MATERIALS
Western Pond Turtle Bibliography
PDF, 0B
David Germano

2012
Western Pond Turtle Power Point
PDF, 0B
David Germano and Galen Rathbun

2012
PEER-REVIEWED PUBLICATIONS
Actinemys marmorata (Baird and Girard 1852) - Western pond turtle, Pacific pond turtle
PDF, 470KB
R. Bruce Bury and David J. Germano
Conservation Biology of Freshwater Turtles and Tortoises; Chelonian Research Monographs, No 5
May 15, 2008
Annual deposition of scute rings in the western pond turtle, Clemmys marmorata
PDF, 1MB
R. Bruce Bury and David J. Germano
Chelonian Conservation and Biology 3(1):108-109
August 1998
Ecology of Western Pond Turtles at sewage treatment facilities in the San Joaquin Valley
PDF, 481KB
David Germano
The Southwestern Naturalist 55(1):89-97
March 2010
Feeding Ecology of the Turtle, Clemmys marmorata
PDF, 252KB
Bury, Bruce
Journal of Herpetology 20(4):515-521
Dec., 1986
Growth, Population Structure, and Reproduction of Western Pond Turtles (Actinemys marmorata) on the Central Coast of California
PDF, 224KB
David Germano and Galen Rathbun
Chelonian Conservation and Biology 7(2):188-194
2008
Nesting behavior and movements of western pond turtles, Clemmys marmorata
PDF, 1MB
Galen Rathbun, Nancy Siepel, and Dan Holland
The Southwestern Naturalist 37(3):319-324
September 1992
Occurence of a colonial protozoan on the western pond turtle, Clemmys marmorata
PDF, 1.5MB
David J. Germano
Herpetological Natural History 7(1):67-71
2000
Population structure and growth of the turtle (Actinemys marorata) from the Klamoth-Siskiyou eco-region: Age not size matters
PDF, 1.1MB
Bruce Bury, David Germano, Gwendolyn Bury
Copeia 3:443-451
2010
Range-wide molecular analysis of the western pond turtle ( Emys marmorata ): cryptic variation, isolation by distance, and their conservation implications
PDF, 479KB
Phillip Q. Spinks and H. Bradley Shaffer
Molecular Ecology 14:2047-2064
2005
Reproduction of Pacific Pond Turtles (Actinemys marorata) in Coastal Streams of Central California
PDF, 156KB
Norman J. Scott, Galen B. Rathbun, Thomas G. Murphey, and Margaret B. Harker
Herpetological Conservation and Biology 3(2):143-148
2008
Terrestrial habitat use by pacific pond turtles in a Mediterranean climate
PDF, 3.6MB
Galen Rathbun, Norm Scott Jr., and Thomas G. Murphey
The Southwestern Naturalist 47(2):225-235
June 2002
The effects of diesel fuel on a stream fauna
PDF, 772KB
R. Bruce Bury
California Fish and Game 58(4):291-295
1972
Variation in body size, growth and population structure of Actinemys maramota from lentic and lotic habitats in Southern Oregon
PDF, 389KB
David Germano, R. Bruce Bury
Journal of Herpetology 43(3):510-520
2009
OTHER INFORMATION
Allocation of Reproductive Output in the Western Pond Turtle in Southern California
PDF, 3.6MB
Marcelo Nolla Pires
California State Polytechnic University, Pomona
2001
Habits and Home Range of the Pacific Pond Turtle, Clemmys marmorata, in a Stream Community
PDF, 11.3MB
Richard Bruce Bury
Bury, B., University of California, Berkeley; 1972. Committee: Stebbins, R., Wake, D., Erman, D.
1972
Nest Site Characteristics of the Western Pond Turtle, Clemmys marmorata, at Fern Ridge Reservoir, in West Central Oregon
PDF, 6MB
Deborah Lyn Holte
Oregon State University
March 31, 1998
Western Pond Turtle - Winter Habitat Use and Behavior
PDF, 5.4MB
Caroline J. Davis
San Jose State University
August 1998
Links
Western Pond Turtle Community Education Video
http://www.youtube.com/watch?v=hPYrCvqdsRU
Questions and Answers
Submit a question on this subject and we'll provide an answer. info@elkhornsloughctp.org