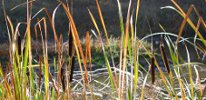 Training
Western Burrowing Owl Workshop 2013-2 (Field Session 1)
COST: FREE
REGISTRATION FOR THIS PROGRAM IS CLOSED
---
Instructor Information
Dr. Lynne Trulio
Department Chair, Environmental Studies
San Jose State
Contact
Virginia Guhin
virginia@elkhornslough.org
831-274-8700
Sponsors

Coastal Training Program, Elkhorn Slough Natl. Estuarine Research Reserve
Description
See also: Burrowing Owl, Maintaining Biodiversity
This field session was in conjunction with the 1-Day Burrowing Owl Repeat Workshop held on September 5. Participants met at Shoreline and proceeded into the field site as a group. We recommended appropriate walking shoes and layers.
Personal vehicles were required for traveling to the site. The instructor provided information on the ecology and habitat needs of burrowing owls as well as how to plan habitats for owls. In the field, participants:
surveyed for active burrowing owl burrows and distinguished them from other burrows,
learned to identify and sex adults in the field,
identified chicks and their approximate age,
learned how to determine appropriate human disturbance buffer distances, and
viewed examples of enhancement for burrowing owl nesting and foraging habitat
Documents and Publications
Contact List
We encourage participants to download the contact list to assist with arranging a rideshare or to get in contact with someone you met at the workshop. Those interested in sharing a ride to the event are marked on the contact list.
Questions and Answers
Submit a question on this subject and we'll provide an answer. coastaltraining@elkhornslough.org