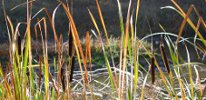 Training
Utilization of Apalachicola NERR SWMP data in support of Numeric Nutrient Criteria Development for Apalachicola Bay
COST: FREE
REGISTRATION FOR THIS PROGRAM IS CLOSED
---
Contact
Grey Hayes
grey@elkhornslough.org
831-274-8700
Sponsors
Description
See also: Maritime Chaparral, Habitat Restoration
The Apalachicola NERR is providing SWMP data to the Florida DEP Division of Environmental Assessment and Restoration (DEAR) in support of their efforts to establish numeric nutrient criteria for Apalachicola Bay. The NERR's SWMP long-term monitoring dataset enabled Florida DEP/DEAR to use a "maintain healthy conditions" approach to establishing nutrient criteria. This type of approach requires a minimum of 9 to 10 years of data. Florida will soon be submitting their nutrient criteria to EPA.
Documents and Publications
Contact List
We encourage participants to download the contact list to assist with arranging a rideshare or to get in contact with someone you met at the workshop. Those interested in sharing a ride to the event are marked on the contact list.
Links
Webinar recording
https://mmancusa.webex.com/mmancusa/ldr.php?AT=pb&SP=MC&rID=56836932&rKey=ba2ee576548761a5
Questions and Answers
Submit a question on this subject and we'll provide an answer. info@elkhornsloughctp.org