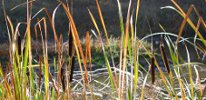 Training
Spatial Analysis and Modeling, Part 2
This workshop builds on Spatial Analysis and Modeling, Part I by exploring more advanced training in spatial theory and methods and their application to unique geographic problems.
COST: $500.00
Payable by check to Elkhorn Slough Foundation
Payable by credit card (online)

REGISTRATION FOR THIS PROGRAM IS CLOSED
---
Instructor Information
Barry Nickel
Director, Center for Integrated Spatial Research
University of California, Santa Cruz
Contact
Grant Lyon
grant@elkhornslough.org
831-274-8700
Sponsors

Coastal Training Program, Elkhorn Slough Natl. Estuarine Research Reserve

Center for Integrated Spatial Research Department of Environmental Studies University of California, Santa Cruz
Description
See also: Geographic Information Systems (GIS), Sustainable Human Systems
This workshop builds on Spatial Analysis and Modeling, Part I by exploring more advanced training in spatial theory and methods and their application to unique geographic problems. The workshop will expand on spatial analysis concepts and topics including hydrologic and terrain analysis, spatial interpolation (geostatistics), spatial statistics (point, areal pattern analysis), and building more complex models (ArcGIS ModelBuilder and introductory concepts of Python scripting for ArcGIS). Related software for conducting spatial analysis will also be presented. Training will primarily be based on the ArcGIS 10 suite of software.
Participants should have prior experience with GIS and Spatial Analysis before taking this workshop as it builds on fundamental spatial analysis concepts.
Workshop Format:
Approximately 50% lecture, 50% hands on training via guided lab exercises completed individually on computers.
OBJECTIVES
By attending the course, participants will:
1) Develop a more advanced understanding of the spatial analysis and modeling of geographic information.
2) Understand the appropriate application of spatial techniques to spatial data including the use of spatial statistical methods, interpolation (geostatistics), and hydrological modeling.
3) Understand how to build complex geoprocessing models for analysis using ArcGIS ModelBuilder.
4) Develop an introductory knowledge of scripting for ArcGIS using Python.
This course is part of a larger GIS series. If you'd like to see more about the series and how this course fits into it, please visit:
http://www.elkhornsloughctp.org/reference/subissue_detail.php?SUBISSUE_ID=51
* For certified planners, 16 units of Certification Maintenance (CM) credits through American Institute of Certified Planners (AICP) may be available for this course. Those seeking such credits should contact us for more information.
Registration Note:
Please note - you can pre-register via this website, but your registration will not be finalized until we receive your registration fee of $500. Payment can be either in the form of a credit card or a check made payable to the Elkhorn Slough Foundation and sent to:
Elkhorn Slough Foundation
ATTN: Grey Hayes
1700 Elkhorn Road
Watsonville, CA 95076
Deadline for payment is 5 p.m. Friday, November 4, 2016. If we have not received your payment at that time, your place may be forfeit to someone on our waiting list. Cancellations prior to that date will receive a refund of payment minus a $50 processing fee. We reserve the right to cancel the workshop prior to November 9, 2016; in that event, we will give full refunds. We do not allow registration 'trading,' even to persons within the same organization. Please let us know as soon as you know if you have registered and cannot attend as there is usually an extensive waiting list for our trainings and we use substantial funds to subsidize workshop expenses, helping to make them more affordable.
Documents and Publications
Contact List
We encourage participants to download the contact list to assist with arranging a rideshare or to get in contact with someone you met at the workshop. Those interested in sharing a ride to the event are marked on the contact list.
Links
Center for Integrated Spatial Research
http://spatial.cisr.ucsc.edu
Questions and Answers
Submit a question on this subject and we'll provide an answer. coastaltraining@elkhornslough.org