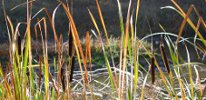 Training
Seagrass Restoration Triggers Rapid Recovery of Multiple Ecosystem Functions
A webinar to hear research on seagrass as a foundation species and the effects its restoration has on the ecosystem functions it supports.
COST: FREE
REGISTRATION FOR THIS PROGRAM IS CLOSED
---
Instructor Information
Kat Beheshti
PhD Candidate
UC Santa Cruz
Contact
Dan Brumbaugh
dan@elkhornslough.org
831-288-5404
Sponsors

Coastal Training Program, Elkhorn Slough Natl. Estuarine Research Reserve
Description
See also: Tidal Wetlands, Habitat Restoration
Seagrasses are a group of foundation species that are in accelerated global decline. As a foundation species, seagrasses provide many functions which include, but are not limited to, serving as a storm buffer via wave attenuation, sequestering carbon, increasing biodiversity, improving water quality (dissolved oxygen, pH, turbidity, etc.), and providing nursery habitat for commercially important species of fishes and invertebrates. We conducted two small-scale experimental seagrass restoration projects in Elkhorn Slough, CA where we quantified many of the aforementioned functions in restored and natural seagrass habitats and adjacent unvegetated subtidal habitat. Our investigation serves as a model for investigating the restoration of foundation species, and the ecosystem functions they support.
This is a one hour webinar. Folks can participate from anywhere. Registration will be handled through the California Coastal Resilience Network, not through the Coastal Training Program.
To register for this webinar, please visit:
https://register.gotowebinar.com/register/726915029658861836
Documents and Publications
Contact List
We encourage participants to download the contact list to assist with arranging a rideshare or to get in contact with someone you met at the workshop. Those interested in sharing a ride to the event are marked on the contact list.
Questions and Answers
Submit a question on this subject and we'll provide an answer. coastaltraining@elkhornslough.org