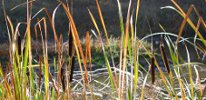 Training
Sea Level Rise - The Next 100 Years
COST: FREE
REGISTRATION FOR THIS PROGRAM IS CLOSED
---
Contact
Grey Hayes
grey@elkhornslough.org
831-274-8700
Sponsors

Coastal Training Program, Elkhorn Slough Natl. Estuarine Research Reserve
Description
See also: Tidal Wetlands, Habitat Restoration
During this program, researchers unveiled preliminary analysis of predicted inundation patterns due to sea level rise in the central Monterey Bay area over the next 100 years. Participants were asked how researchers might adapt their analysis to the needs of farmers, ranchers, home owners, conservation groups, business owners, and public works. They were also asked how to improve communication and outreach to others interested in the impacts of sea level rise.
Participants indicated interest in better economic impacts analysis as well as working to better understand how future storm patterns might interact with sea level rise.
Documents and Publications
Contact List
We encourage participants to download the contact list to assist with arranging a rideshare or to get in contact with someone you met at the workshop. Those interested in sharing a ride to the event are marked on the contact list.
DOCUMENT
AUTHOR / SOURCE
WORKSHOP MATERIALS
Presentation: Climate change and sea level rise science primer
PDF, 399KB
Elizabeth Watson, PhD
ESNERR
September 2010
Presentation: Predicting Climate Change Impacts
PDF, 1.9MB
Eric Van Dyke
ESNERR
September 22, 2010
Sea Level Rise- The Next 100 Years, Session Notes
PDF, 330KB
Elkhorn Slough Coastal Training Program
ESNERR
December 2010
PEER-REVIEWED PUBLICATIONS
Applications from Paleoecology to Environmental Management and Restoration in a Dynamic Coastal Environment
PDF, 921KB
Watson, E.B., Wasson, K., Pasternack, G.B., Woolfolk, A., Van Dyke, E., Gray, A.B., Pakenham, A. & Wheatcroft, R.A.
Restoration Ecology
In press, 2010
Climate change scenarios for the California region
PDF, 923KB
Cayan, D., Maurer, E., Dettinger, M., Tyree, M. & Hayhoe, K.
Climatic Change 87: 21-42
2008
Global sea level linked to global temperature
PDF, 329KB
Martin Vermeer and Stefan Rahmstorf
Proceedings of the National Academy of Sciences 106(51):21527-21532
2009
OTHER INFORMATION
Ancient Processes at the Site of Southern San Francisco Bay: Movement of the Crust and Changes in Sea Level
PDF, 878KB
Atwater, B.F.
SAN FRANCISCO BAY: THE URBANIZED ESTUARY Investigations into the Natural History of San Francisco Bay and Delta With Reference to the Influence of Man, Conomos, T.J. (editor) pp. 31-45
1979
Links
Intergovernmental Panel on Climate Change 2001 assessments
http://www.grida.no/publications/other/ipcc_tar/
IPCC, 2001: Climate Change 2001: The Scientific Basis
http://www.ipcc.ch/ipccreports/tar/wg1/
Questions and Answers
Submit a question on this subject and we'll provide an answer. coastaltraining@elkhornslough.org