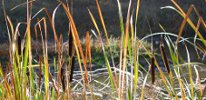 Training
Santa Cruz Long-Toed Salamander Workshop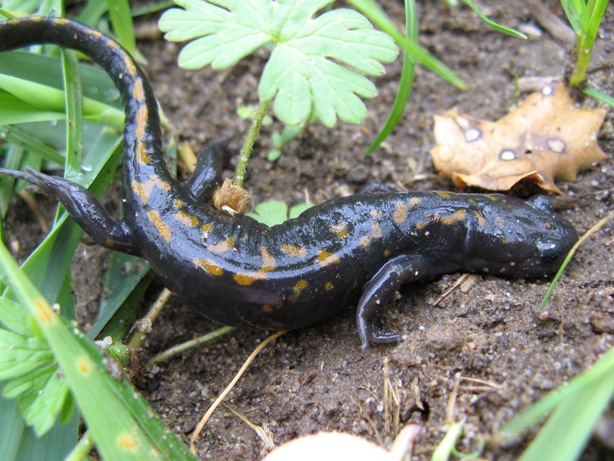 COST: $300.00
Payable by check to Elkhorn Slough Foundation

REGISTRATION FOR THIS PROGRAM IS CLOSED
---
Instructor Information
Ms. Linda Connolly
Environmental Scientist
California Department of Fish and Wildlife, Central Coast Region
David Laabs
Wildlife Biologist
Center for Natural Lands Management and Biosearch
Dr. Wesley Savage

Department of Biological Sciences, University of Massachusetts
Dr. Peter Trenham
Lecturer and Advisor
Penn State University
Contact
Grey Hayes
grey@elkhornslough.org
(831) 274-8700
Sponsors

Coastal Training Program, Elkhorn Slough Natl. Estuarine Research Reserve
Santa Cruz County Resource Conservation District
Description
See also: Santa Cruz Long-Toed Salamander, Habitat Restoration
The Elkhorn Slough Coastal Training Program is pleased to announce a newly developed event: the Santa Cruz Long-Toed Salamander Workshop for 8:30-3 p.m., April 24, 2009 at the Elkhorn Slough National Estuarine Research Reserve; there is an accompanying field practicum offered either 4:30-8 p.m. evening April 24 or in the morning of April 25, 9 am -1 pm at a location TBD. Registration is $300.
Peter Trenham and Wesley Savage will present comprehensive lectures on the biology and conservation of the Santa Cruz long-toed salamander (Ambystoma macrodactylum croeceum, SCLTS). The presenters are researchers and advisors with expertise in the ecology, life history, and conservation of this highly endangered species. Dr. Trenham is the highly regarded instructor for our California tiger salamander workshop, which is in continual high demand. The workshop will consist of a daytime classroom session and a choice of attending a field session either the night of or the day after the classroom session.
Workshop Objectives: This is a great opportunity to gain an understanding of the biology of the Santa Cruz long-toed salamander and also how this information can be applied to habitat management for this species. The information conveyed will be useful in large-scale and local conservation planning efforts. Topics discussed will include: the geographic distribution of Santa Cruz long-toed salamanders and related species, upland and aquatic habitats and their management, movements, population and community ecology, survey methods, and methods for assessing potential project impacts and approaches for avoidance and minimization. Participants will receive field training in species identification, sampling techniques, and habitat requirements of the Santa Cruz long-toed salamander.
-------
Please note: your registration will not be finalized until we receive a check for $300 payable to the Elkhorn Slough Foundation, sent to: Elkhorn Slough Foundation ATTN: Grey Hayes, 1700 Elkhorn Road, Watsonville, CA 95076. Please note on your check the name of the workshop. Deadline for receipt of payment is 5 p.m. April 10, 2009; your reservation may be forfeit after this date if we have not received payment. We cannot refund registration fees if you cancel your registration after 5 p.m. April 3, 2009. We will refund cancellations prior to this date minus a $30 processing fee. You cannot 'trade' registration with another individual, even in the same organization. We will notify you via email with a registration confirmation number upon receipt of payment. We reserve the right to cancel this workshop due to insufficient registration prior to 5 p.m. April 8, 2009 - in this case, a full refund will be remitted.
***very important***
Your registration includes attendance at one of the two field training sessions on either April 24 or April 25. In order to reduce teacher:student ratio, we are limiting each session to 17 participants. After pre-registering, please email us your preferred date of attendance; include a note if you are not flexible in the date that you are able to attend. We cannot guarantee you your preferred date, but we will do what we can to accommodate your preference.
Documents and Publications
DOCUMENT
AUTHOR / SOURCE
WORKSHOP MATERIALS
Contact List: Santa Cruz Long-Toed Salamander
PDF, 14KB
Grey Hayes
Elkohrn Slough Coastal Training Program
April 2009
Presentation: Biology and Conservation of the Santa Cruz long‐toed salamander (Ambystoma macrodactylum croceum)
PDF, 3.5MB
Pete Trenham and Wesley Savage
Elkhorn Slough Coastal Training Program
April 2009
Presentation: CEQA and CESA Project Review: The Screening Process, Permits, and Fully Protected Species Issues
PDF, 372KB
Linda Connolly
Elkhorn Slough Coastal Training Program

Presentation: Santa Cruz Long-Toed Salamander Field Studies 1998-2009
PDF, 493KB
David Laabs
Elkhorn Slough Coastal Training Program
April 2009
Santa Cruz long-toed salamander (Ambystoma macrodactylum croceum) reference list
PDF, 213KB
Pete Trenham and Wesley Savage
Elkhorn Slough Coastal Training Program
April 2009
PEER-REVIEWED PUBLICATIONS
A Comparison of the Life Histories of Coastal and Montane Populations of Ambystoma macrodacytlon in California
PDF, 3.1MB
James D. Anderson
The American Midland Naturalist 77(2):323-355
1967
Recovery Plan (Draft): Santa Cruz long-toed salamander
PDF, 23.6MB
US Fish and Wildlife Service
USFWS
2004
Species account: Santa Cruz long-toed salamander
DOC, 9MB
American Society of Ichthyology and Herpetology

1963
OTHER INFORMATION
California Wildlife Habitat Relationships System: long-toed salamander species account
PDF, 24KB
California Department of Fish and Game
California Interagency Wildlife Task Group
2007
Sampling Procedures for Determining Presence or Absence of the Santa Cruz Long-toed Salamander (Ambystoma macrodactylum croceum)
PDF, 70KB
John M. Brode
US Fish and Wildlife and California Department of Fish and Game
May 1993
Santa Cruz County Planning Department Policy: Site Disturbance and Impervious Surface in the Salamander Protection Zone
PDF, 57KB
Santa Cruz County Planning Department
County of Santa Cruz
1/1/03
Tissue Collection Protocol for Genetic Research
PDF, 270KB
K.E. Leyse, A.J. Lind, W.K. Savage, H.B. Shaffer, and M.R. Stephens
Elkhorn Slough Coastal Training Program
April 2009
Links
Amphibia web account for Santa Cruz long-toed salamander
http://amphibiaweb.org/cgi-bin/amphib_query?rel-genus=like&rel-species=like&rel-common_name=like&rel-family=equals&rel-ordr=equals&rel-isocc=like&rel-description=like&rel-distribution=like&rel-life_history=like&rel-trends_and_threats=like&rel-relation_to_
Questions and Answers
Submit a question on this subject and we'll provide an answer. coastaltraining@elkhornslough.org