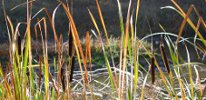 Training
Project Design and Evaluation
COST: $50.00
Payable by check to Elkhorn Slough Foundation

REGISTRATION FOR THIS PROGRAM IS CLOSED
---
Instructor Information
Steve Gilbert
Trainer
NOAA Coastal Services Center
Ms. Pam Kylstra
Trainer, facilitator, evaluator
NOAA Office for Coastal Management
Contact
Grey Hayes
grey@elkhornslough.org
831-274-8700
Sponsors

Coastal Training Program, Elkhorn Slough Natl. Estuarine Research Reserve
Description
See also: Coastal Training Network, Sustainable Human Systems
This course provides environmental stewardship and education professionals with the knowledge, skills, and tools to design and implement education and outreach projects that have measurable impacts on the audience they want to reach. This interactive curriculum can help you increase the effectiveness of your projects by applying instructional design theory to their design. After attending the workshop, participants will be able to:
* Describe the context of project design and evaluation within the scope of agency and organization missions, strategic plans, and established program niches
* Apply appropriate instructional design theory and practices to project development
* Explain the role of logic models in project design and evaluatio and create logic models for their projects
* Use performance measurement as part of project evaluation
* Describe three types and four levels of evaluation that can be applied to projects
This workshop is provided in partnership with the NOAA Coastal Services Center. It is also being offered by the San Francisco Bay CTP in Oakland on October 26 and 27. You may wish to attend there if that venue is closer.
Documents and Publications
Contact List
We encourage participants to download the contact list to assist with arranging a rideshare or to get in contact with someone you met at the workshop. Those interested in sharing a ride to the event are marked on the contact list.
Links
Conservation Action Planning: An In-Depth Logic Model for Conservation Practioners
http://conserveonline.org/workspaces/cbdgateway/cap/resources/index_html
Description of Program Design and Evaluation Workshop
http://www.csc.noaa.gov/cms/cls/project_design.html
Logic Model Templates
http://www.uwex.edu/ces/pdande/evaluation/evallogicmodelworksheets.html
Microsoft Visio - one program to help visualize and build logic models
http://office.microsoft.com/en-us/visio/FX100487861033.aspx
Questions and Answers
Submit a question on this subject and we'll provide an answer. coastaltraining@elkhornslough.org