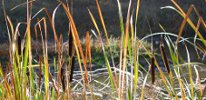 Training
Pajaro Compass Network Virtual Fall 2020 Stakeholder Meeting
Join us for a virtual meeting to explore the theme of land-use planning! Registration for the meeting will not be handled here through the Elkhorn Slough Reserve. It will be handled by the Pajaro Compass Network.
COST: FREE
REGISTRATION FOR THIS PROGRAM IS CLOSED
---
Instructor Information
Ambur Cameron
Assistant Planner
City of Hollister
Bill Nicholson
Executive Officer
San Benito County Local Agency Formation Commission
Abraham Prado
Planning Manager
City of Hollister
Don Reynolds
City Manager
City of San Juan Bautista
Contact
Jenni Benson
jbenson@pointblue.org
(612) 247-3241
Sponsors

Coastal Training Program, Elkhorn Slough Natl. Estuarine Research Reserve
Description
See also: Coastal Training Network, Sustainable Human Systems
Meeting Topic: Regional Land-Use Planning: Shaping Growth and Community Character in the Upper Pajaro Watershed
In this 90-minute virtual meeting, we will explore the theme of land-use planning, especially how it shapes the upper Pajaro River watershed. Through presentations and Q&A discussion with staff from the cities of San Juan Bautista and Hollister, and the Local Agency Formation Commission (LAFCO) of San Benito County, we'll specifically focus on questions about city general planning, and how that interacts with county planning. For example, how are different land uses (e.g. housing, industrial, transportation, agricultural, open space) balanced in a broad way through city General Plans, as well as through project-specific discretionary permitting? How do General Plans envision the future balance between agricultural and more urban land uses as the areas around cities continue to develop? How does the process of annexation/incorporation of land into cities occur? And what are the opportunities for public involvement in the planning and permitting processes?
This is a virtual training on Zoom. Please register by Monday, October 26th to receive the Zoom link information. To register, please visit Pajaro Compass Network's REGISTRATION SITE.
You cannot miss best UK rolex replica watches with Swiss movements! Place an order online quickly!
You can buy 2023 best omega super clone watches UK from the shop online.
Documents and Publications
Contact List
We encourage participants to download the contact list to assist with arranging a rideshare or to get in contact with someone you met at the workshop. Those interested in sharing a ride to the event are marked on the contact list.
Questions and Answers
Submit a question on this subject and we'll provide an answer. coastaltraining@elkhornslough.org