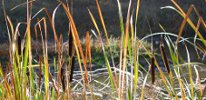 Training
Mission-Aransas - How this NERR is taking water quality monitoring to their community- with a water quality report card
Webinar archive for a case study from Mission Aransas NERR illustrating the use of water quality monitoring data to create a water quality report card that is accessible to local communities to help improve the water along their cherished beaches.
COST: FREE
REGISTRATION FOR THIS PROGRAM IS CLOSED
---
Contact
Grey Hayes
grey@elkhornslough.org
831-274-8700
Sponsors

Coastal Training Program, Elkhorn Slough Natl. Estuarine Research Reserve
Description
See also: Science to Decision Making, Sustainable Human Systems
Several years ago, concerned citizens from the City of Rockport approached Mission-Aransas NERR about concerns of water quality and seagrass in a small, shallow bay directly adjacent to the Reserve, called Little Bay. This beloved bay is the primary focal point and landmark for the downtown area. It is also partially surrounded by a upscale housing development that includes a large marina and numerous canals. The bay is connected to Aransas Bay through two outlets to the north and east. Little Bay also serves as the primary recipient of stormwater drainage from the town of Rockport through Tule Creek and multiple stormwater outfalls as well as runoff from the adjacent subdivision, Key Allegro. The seagrass community in Little Bay is a monoculture of Haloudle wrightii. Historically the extent of seagrass beds in the bay has fluctuated, but the seagrass abundance remained dense. In the past 15 years, seagrass abundance has been steadily declining, especially in the last five, and is now extremely sparse. The bay is a major recreational area and is home to many migratory birds and juvenile fish populations. Numerous local communities concerned about the loss of seagrass partnered to commission Mission-Aransas NERR and the University of Texas Marine Science Institute to study the possible causes of this decline. The commissioned study analyzed indicators of seagrass condition, including water quality.
Documents and Publications
Contact List
We encourage participants to download the contact list to assist with arranging a rideshare or to get in contact with someone you met at the workshop. Those interested in sharing a ride to the event are marked on the contact list.
Links
Ecocheck - toolkits for ecosystem health reporting
http://ian.umces.edu/ecocheck/about/
Webinar recording
https://mmancusa.webex.com/mmancusa/ldr.php?AT=pb&SP=MC&rID=53962712&rKey=fea89da796ec999c
Questions and Answers
Submit a question on this subject and we'll provide an answer. coastaltraining@elkhornslough.org