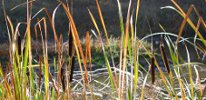 Training
Introduction to Geographic Information Systems (GIS)
COST: $500.00
Payable by check to Elkhorn Slough Foundation

REGISTRATION FOR THIS PROGRAM IS CLOSED
---
Instructor Information
Barry Nickel
Director, Center for Integrated Spatial Research
University of California, Santa Cruz
Contact
Grey Hayes
grey@elkhornslough.org
(831) 728-8050
Sponsors

Coastal Training Program, Elkhorn Slough Natl. Estuarine Research Reserve

Center for Integrated Spatial Research Department of Environmental Studies University of California, Santa Cruz
Description
See also: Geographic Information Systems (GIS), Sustainable Human Systems
This course was an introduction to the concepts and application of Geographic Information Systems. The course presented conceptual and practical discussions of the analysis of spatial information with the addition of exercises using the ESRI ArcGIS suite of applications. The class was designed to provide a basic introduction to GIS including spatial data structures and sources, spatial tools, spatial data display and query, map generation, and basic spatial analysis using ArcGIS software.
Course Format: Approximately 50% lecture and 50% lab exercise.
OBJECTIVES
By attending the course, participants:
1) Developed a basic understanding of the visualization, and modeling of geographic information.
2) Facilitated an understanding of the unique nature of spatial data including types, geometry, attributes, geographic coordinate systems and map projections.
3) Developed basic skills in spatial exploration through querying, spatial analysis, modeling, and mapping.
4) Became familiar with ESRI ArcGIS desktop. Gained basic knowledge and technical skills to utilize the software.
Documents and Publications
Contact List
We encourage participants to download the contact list to assist with arranging a rideshare or to get in contact with someone you met at the workshop. Those interested in sharing a ride to the event are marked on the contact list.
Links
Center for Integrated Spatial Research
http://spatial.cisr.ucsc.edu
Questions and Answers
Submit a question on this subject and we'll provide an answer. coastaltraining@elkhornslough.org