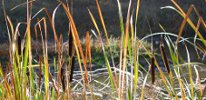 Training
How Grand Bay's water quality program is interacting with a phosphate spill in their estuary
COST: FREE
REGISTRATION FOR THIS PROGRAM IS CLOSED
---
Contact
Grey Hayes
grey@elkhornslough.org
831-274-8700
Sponsors

Coastal Training Program, Elkhorn Slough Natl. Estuarine Research Reserve
Description
See also: Science to Decision Making, Sustainable Human Systems
In April of 2005, levees preventing runoff from the phosphate processing facility along Grand Bay NERR's western border were breached after extended rainfall. Several million gallons of phosphate-filled wastewater were released into upper Bangs Lake. The data sonde at Bangs Lake picked up a large, fast drop in pH: from 7 to 4 in just an hour. A massive algal bloom and potential phosphate toxicity caused a huge fish kill. Oyster populations and marsh vegetation were also severely impacted. Phosphate concentrations remained high for several months. Reserve staff and other MS Department of Marine Resources personnel assisted the MS Department of Environmental Quality (MDEQ) in follow-up biological monitoring in addition to providing water quality and nutrient data from regular SWMP sampling. These data contributions were useful in assessing impacts from the spill, determining the appropriate mitigation and enforcement actions, and leading to better regulatory oversight of the facility.
Documents and Publications
Contact List
We encourage participants to download the contact list to assist with arranging a rideshare or to get in contact with someone you met at the workshop. Those interested in sharing a ride to the event are marked on the contact list.
Links
Tracking the Impacts of a Phosphate Spill in the Grand Bay NERR
http://estuaries.noaa.gov/ScienceData/Default.aspx?ID=291
Webinar recording
https://mmancusa.webex.com/mmancusa/ldr.php?AT=pb&SP=MC&rID=55079122&rKey=d434e86fd07c625b
Questions and Answers
Submit a question on this subject and we'll provide an answer. coastaltraining@elkhornslough.org