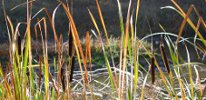 Training
Historical Ecology of Wetlands in the Vicinity of Elkhorn Slough
The historical wetlands in north Monterey County.
COST: FREE
REGISTRATION FOR THIS PROGRAM IS CLOSED
---
Instructor Information
Ms. Andrea Woolfolk
Stewardship Coordinator
Elkhorn Slough National Estuarine Research Reserve
Contact
Grey Hayes
grey@elkhornslough.org
(831) 274-8700
Sponsors

Coastal Training Program, Elkhorn Slough Natl. Estuarine Research Reserve
Description
See also: Tidal Wetlands, Habitat Restoration
Goal:
Improve participant understanding of the historical ecology of the wetlands in northern Monterey County, in the vicinity of the Elkhorn Slough.
Objectives:
Improve participant understanding of:
a map of historical wetlands in north Monterey county;
historical data used to create map, and;
how to access, via the web, historical maps of the region.
Summary
Andrea's presentation covered the extent of historical information from the Elkhorn, Moro Cojo, and Tembladero Sloughs, as well as associated wetlands and wetland/riparian vegetation. Her slides included historical maps neatly overlaid with current aerials in Google Earth to help orient participants. Andrea color coded wetland and vegetation types from the historical record to further elucidate comparisons between the historical ecology and the current landscape. To add depth to her presentation, she reviewed firsthand accounts of encounters with the landscape including from some of the earliest expeditions as well as early 1900's adventures through the Sloughs…all illustrated visually and oriented onto the accompanying historical maps.
Besides illustrating a multitude of very interesting historical trends, Andrea's presentation made several major points. Andrea illustrated that there were extensive wetlands, from salt marsh to freshwater lakes, ranging between today's Elkhorn Slough and Salinas City. So extensive and interconnected were these wetlands that small boats were able to navigate from Castroville to the Salinas River, back to the town of Castroville up the Moro Cojo and Castroville Slough systems. Andrea presented changes in the 19th and 20th century that included harbor dredging, water control structures and 'reclamation' practices that drastically altered the hydrology of all of these wetlands to what we are more familiar with today.
Meeting Format
This was a one hour meeting with a presentation and moderated question and answer.
Documents and Publications
Contact List
We encourage participants to download the contact list to assist with arranging a rideshare or to get in contact with someone you met at the workshop. Those interested in sharing a ride to the event are marked on the contact list.
Links
Audio recording of Historical Ecology of Wetland in the Vicinity of Elkhorn Slough
http://www.waterboards.ca.gov/centralcoast/board_info/agendas/2014/march/Item_12/item12.mp3
Elkhorn Slough Restoration: Historical Ecology Tools
http://www.elkhornslough.org/stewardship/historical-ecology-tools/
Questions and Answers
Submit a question on this subject and we'll provide an answer. coastaltraining@elkhornslough.org