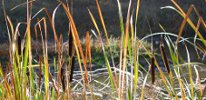 Training
Habitat Restoration and Water Quality Practices
COST: FREE
REGISTRATION FOR THIS PROGRAM IS CLOSED
---
Contact
Virginia Guhin
virginia@elkhornslough.org
831-274-8700
Sponsors

Elkhorn Slough Coastal Training
Description
See also: Riparian Restoration, Habitat Restoration
The Elkhorn Slough National Estuarine Research Reserve Coastal Training Program is facilitating a technical advisory committee (TAC) to achieve two objectives intended to inform a number of initiatives designed to assist restoration and water quality management work statewide. Those objectives are:
Select a core set of management/conservation practices that have strong scientific support and broad application. The core set of practices is expected to meet land management needs and be supported by regulatory agencies and restoration ecologists.
Develop a standardized monitoring and reporting protocol with web-based interface for reporting on project implementation to facilitate adaptive management, strengthened accountability, and the ability for scientific analysis.
The TAC will be facilitated by staff from the Elkhorn Slough National Estuarine Research Reserve Coastal Training Program and is expected to comprise approximately 15 members. Experts from the Natural Resources Conservation Service (NRCS), local Resource Conservation Districts (RCDs) and state and federal regulatory agencies will participate, as well as restoration ecologists from the public and private sectors and monitoring experts from NGOs and scientific consortia.
How will the final product be used?
The restoration and water quality practice prioritization report will improve a number of efforts. Land managers, funding agencies and interagency collaborative initiatives can use this guidance to inform their work. And, management practices are expected to improve as guidelines in this report will make it possible to analyze the efficacy of various practices. For those who find it valuable, the guidelines can also assist with accountability measures. It is also our hope that the process of producing this report will be useful in future and periodic updates
Documents and Publications
Contact List
We encourage participants to download the contact list to assist with arranging a rideshare or to get in contact with someone you met at the workshop. Those interested in sharing a ride to the event are marked on the contact list.
Questions and Answers
Submit a question on this subject and we'll provide an answer. info@elkhornsloughctp.org