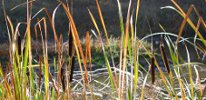 Training
Environmental Negotiations Workshop
COST: $400.00
Payable by check to Elkhorn Slough Foundation

REGISTRATION FOR THIS PROGRAM IS CLOSED
---
Instructor Information
Contact
Virginia Guhin
virginia@elkhornslough.org
831-274-8700
Sponsors

Coastal Training Program, Elkhorn Slough Natl. Estuarine Research Reserve
Description
See also: Coastal Training Network, Sustainable Human Systems
Environmental negotiations are often more complex than other negotiations due to their technical complexity, regulatory complexity, interest from many parties, and often, the emotional nature of the parties. This workshop will provide attendees improved skills for effectively participating in environmental negotiations. This workshop presents basic negotiation concepts (e.g., Fisher and Ury's "Getting to Yes" series) and specific environmental issue applications. Participants will learn simple processes to prepare for negotiations and reinforce skills through practice negotiations of increasing complexity. Negotiation simulations and role playing are used to provide a fun and safe way to reinforce negotiation principles. In addition, everyone is encouraged prepare for upcoming (real life) negotiations during this course. This course emphasizes using principled (ethical) negotiation approaches to build trust and relationships. The participants are taught to recognize commonly encountered tactics and shown productive responses. Instructors will provide examples of successful negotiations. The skills taught in this class help many reduce anxiety about negotiating while helping to achieve successful outcomes. Course materials provide useful tools for future negotiations.

Workshop Audience:
This workshop will provide useful tools to the following groups:
Planners
Agency representatives
Scientists
Land managers
Supervisors and program managers
Environmental Groups
Citizen participants in public processes

Will participants be expected to have any prior knowledge, training, or experience?
Prior training is not necessary. All basic concepts will be reviewed in adequate detail to allow participation by beginning students, while the depth of the material should satisfy experienced negotiators. We assume that everyone has some experience with negotiations. There is material to help each person improve negotiations whether they are "beginners" or highly experienced.

What will the participants walk away knowing?
Attendees learn:
* Basic negotiation concepts and terminology
* The difference between simple negotiations and complex environmental negotiations
* How to prepare and be ready to negotiate before bargaining begins.
* How to clarify your interests and alternatives to negotiation to create better outcomes.
* To negotiate in an ethical manner consistent with your principles.
* How to manage negotiations and to work on a negotiation team.
* Improved listening and questioning skills for an improved outcome.
* How to close negotiations with agreements that last.
Benefits of attending?
A better understanding of negotiation principles, approaches, and practices improves the outcome of environmental negotiations. Participants are exposed to a variety of tools for approaching complex negotiations. With new tools in hand, attendees face future negotiations with many new options for problem solving. Negotiation simulations are designed to demonstrate skills and help increase confidence. This workshop will change the way you negotiate.
* Please Note: Your registration will not be finalized until we receive your check for $400 payable to Elkhorn Slough Foundation mailed to: Elkhorn Slough Foundation attn: Coastal Training Program, 1700 Elkhorn Road, Watsonville, CA 95076
Deadline for payment is 5 p.m.January 18, 2011. If we have not received your payment at that time, your place may be forfeit to someone on our waiting list. Cancellations prior to that date will receive a refund of payment minus a $50 processing fee. We reserve the right to cancel the workshop prior to January 21, 2011; in that event, we will give full refunds.
We do not allow registration 'trading,' even to persons within the same organization. Please let us know as soon as you know if you have registered and cannot attend as there is usually an extensive waiting list for our trainings and we use substantial funds to subsidize workshop expenses, helping to make them more affordable.
Documents and Publications
Contact List
We encourage participants to download the contact list to assist with arranging a rideshare or to get in contact with someone you met at the workshop. Those interested in sharing a ride to the event are marked on the contact list.
Links
"Getting to Yes" Reference Book
http://books.google.com/books?id=yRIGgqoCQfEC&printsec=frontcover&dq=getting+to+yes&hl=en&src=bmrr&ei=ytj2TOPjIYL2swOrpdGmCw&sa=X&oi=book_result&ct=book-thumbnail&resnum=1&ved=0CCwQ6wEwAA#v=onepage&q&f=false
Questions and Answers
Submit a question on this subject and we'll provide an answer. coastaltraining@elkhornslough.org