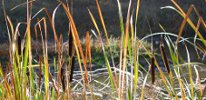 Training
Ecology of the California's Red-legged Frog - for CDFW
This was a free training for CDFW staff on the Ecology of the California Red-legged Frog.
COST: FREE
REGISTRATION FOR THIS PROGRAM IS CLOSED
---
Instructor Information
Mr. Greg Tatarian
Wildlife Biologist
Wildlife Research Associates
Ms. Trish Tatarian
Biologist
Wildlife Research Associates
Contact
Grey Hayes
grey@elkhornslough.org
(831) 274-8700
Sponsors

Coastal Training Program, Elkhorn Slough Natl. Estuarine Research Reserve
Description
See also: California Red Legged Frog, Habitat Restoration
Workshop Objectives: This was an opportunity to receive training in species identification, an overview of the habitat requirements, and field surveying techniques for the California red-legged frog (CRF). Workshop information was designed to be useful for evaluating CRF habitats, assessing potential impacts from projects within the range of CRF, conservation planning, and for educational outreach to agricultural producers and others who are considering projects that may impact CRF. The instructors covered only minor regulatory and permitting information in this workshop.
Workshop Details:
Workshop registration included a classroom session and afternoon field component on May 12. Registration also included optional attendance at a night time field training session on the evening of May 12. Night training is conducted from 8:00 pm until midnight at a site on Contra Costa Water District land.
During the evening field training, instructors trained participants on detecting frog eye shine and identifying adult frogs.
Workshop Format:
May 12 Classroom Session (8:00am-2:00pm) - An overview of the ecology of the California red-legged frog, including biology and management of the species. At the Robert Livermore Community Center.
May 12 Afternoon Session (2:00pm-6:00pm) - Field trip to Contra Costa Water District's Los Vaqueros Watershed Lands (http://www.ccwater.com/losvaqueros/): Hands-on training in habitat requirements and assessment, pond designs, equipment demonstrations, tadpole identification and survey techniques.
May 12 Night Field Practicum (8:00pm-midnight) - Registration included optional attendance at a field training sessions at Los Vaqueros. Trish and Greg demonstrated USFWS survey methodology, as well as catching, handling, sexing and measuring adult frogs. Students then practiced the USFWS CRF Survey Protocol, which does not include sampling or handling the species in the pond.
Documents and Publications
Contact List
We encourage participants to download the contact list to assist with arranging a rideshare or to get in contact with someone you met at the workshop. Those interested in sharing a ride to the event are marked on the contact list.
DOCUMENT
AUTHOR / SOURCE
WORKSHOP MATERIALS
Criteria for the Selection and Use of Light Sources and Binoculars for Visual Encounter Surveys of Adult and Sub-Adult California Red-legged Frogs (Rana draytonii)
PDF, 112KB
Trish Tatarian and Greg Tatarian

2017
Handouts: California Red-legged Frog Workshop
PDF, 364KB
Trish Tatarian and Greg Tatarian
Elkhorn Slough Coastal Training Program
2015
Important preparation instructions for California red-legged frog workshop participants
PDF, 68KB
Grey Hayes
Elkhorn Slough Coastal Training Program
May 2017
Important preparation instructions for Ecology of the California Red-legged Frog for CDFW
PDF, 110KB
Grey Hayes
ES CTP
March 2016
Presentation: Ecology of the California Red-legged Frog
PDF, 3.8MB
Trish Tatarian and Greg Tatarian
Elkhorn Slough Coastal Training Program
2016
Selected and annotated bibliography of the California red-legged frog (Rana draytonii)
DOC, 122KB
Trish Tatarian and Greg Tatarian
Elkhorn Slough Coastal Training Program
February 2017
PEER-REVIEWED PUBLICATIONS
Cattle Grazing Mediates Climate Change Impacts on Ephemeral Wetlands
PDF, 193KB
Christopher R. Pyke and Jaymee Marty
Conservation Biology 19(5):1619-1625
2005
Do a threatened native amphibian and its invasive congener differ in response to human alteration of the landscape?
PDF, 199KB
Antonia D'Amore, Valentine Hemingway, Kerstin Wasson
Biological Invasions, 12(1):145-154
2010
Evaluation of a radio-belt for ranid frogs
PDF, 136KB
Galen Rathbun and Thomas Murphey
Herpetological Review 27(4):187-189
1996
Invasive species shifts onto genetic resource partitioning and microhabitat use of a threatened native amphibian
PDF, 164KB
Antonia Amore, Eric Kirby, Michael McNicholas
Aquatic Conservation: Marine and Freshwater Ecosystems 19: 534-541
2009
Managing rangelands to benefit California red-legged frogs and California tiger salamanders
PDF, 6.7MB
Ford, L.D., P.A. Van Hoorn, D.R. Rao, N.J. Scott, P.C. Trenham, and J.W. Bartolome.
Alameda Resource Conservation District
2013
Movement patterns of California red-legged frogs in an inland California environment
PDF, 748KB
Patricia J. Tatarian
Herpetological Conservation and Biology 3(2):155-169
March 30, 2008
Overwintering Tadpoles in the California Red-legged Frog (Rana aurora draytonii)
PDF, 218KB
Gary M. Fellers, Alan E. Launer, Galen Rathbun, Steve Bobzien, Jeff Alvarez, David sterner, Richard B. Seymour, and Michael Westphal
Herpetological Review 32(3):156-157
2001
Rana draytonii dispersal
PDF, 84KB
Mark Allaback, David M. Laabs, David S. Keegan, Josh D. Harwayne
Herpetological Review, 41(2), 204-206
2010
Rana draytonii (California red-legged frog). Behavior- dangers of drift fences
PDF, 62KB
Galen Rathbun, Norman Scott, Thomas Murphey
Herpetological Review 28(2):85-86
1997
Rana Draytonii (California Red-legged Frog). Egg Predation.
PDF, 39KB
Galen Rathbun
Herpetological Review 29(3):165
1998
Rana draytonii (California Red-Legged Frog). Predation.
PDF, 216KB
Jeff Wilcox
Herpetological Review 42(3):414-415
2011
Rana Draytonii (California Red-legged Frog). Prey.
PDF, 16KB
Marc P. Hayes, Mark R. Jennings, Galen B. Rathbun
Herpetological Review 37(4):449
2006
Relocations of California red-legged frogs, California, USA.
PDF, 1.2MB
Dana Bland
Re-introduction News, Newsletter of the Re-introduction Specialist Group, IUCN, No. 25:12-13.
2006
Reproductive Interference by an Invasive Species an Evolutionary Trap?
PDF, 130KB
Antonia D'Amore, Eric Kirby, Valentine Hemingway
Herpetological Conservation and Biology 4(3):325-330
2009
Terrestrial activity and conservation of adult California red-legged frogs Rana aurora draytonii in coastal forests and grasslands.
PDF, 349KB
John B. Bulger, Norman J Scott, Jr. and Richard B. Seymour
Biological Conservation 110:85-95
2002
Translocation of California red-legged frogs (Rana aurora draytonii)
PDF, 789KB
Galen Rathbun and Julie Schneider
Wildlife Society Bulletin 29(4):1300-1305
2001
Water Temperatures in a California Red-legged breeding pond
PDF, 624KB
Galen Rathbun
Immediate Science Ecology 1: 7-11
September 5, 2012
OTHER INFORMATION
Light Source and Binoculars for Visual Encounter Surveys of Adult California Red-legged Frogs
PDF, 96KB
Trish Tatarian Greg Tatarian Norman Scott

September 2012
Management Guidlines for the California Red-Legged Frog
PDF, 188KB
Drs. Galen Rathbun and Norman Scott
Elkhorn Slough Coastal Training Program
February 2009
Revised Guidence on Site Assessments for California Red Legged Frog
PDF, 143KB
US Fish and Wildlife
US Fish and Wildlife
August 2005
Stockpond management for the benefit of California red-legged frog
PDF, 101KB
Norman Scott Galen Rathbun Trish Tatarian

2013
Links
California Red-Legged Frog Sounds
http://www.californiaherps.com/frogs/pages/r.draytonii.sounds.html
EPA- Pesticide Effects Determinations for the California Red-legged Frog and other California Listed Species
http://www.epa.gov/espp/litstatus/effects/redleg-frog/
Managing Rangelands for California red-legged frog and California tiger salamander
http://www.rangelandconservation.com/Documents/ManagingRangelandsCRLF_CTS.pdf
Questions and Answers
Submit a question on this subject and we'll provide an answer. coastaltraining@elkhornslough.org