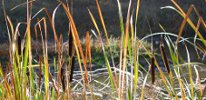 Training
Ecology of Foothill Yellow-Legged Frog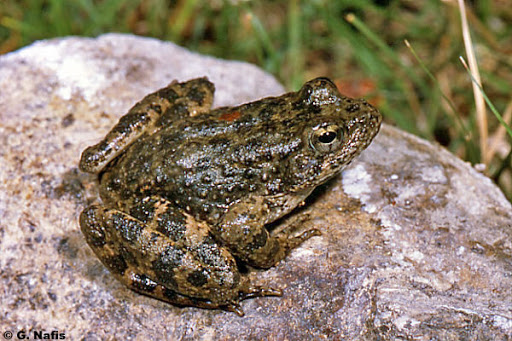 A workshop on the biology, life history, conservation and more of the Foothill Yellow-Legged Frog. The workshop will include both virtual lectures and in-person training in the field.
COST: $320.00
Payable by check to Elkhorn Slough Foundation
Payable by credit card (online)

REGISTRATION FOR THIS PROGRAM IS CLOSED
---
Instructor Information
Marcia Grefsrud
Environmental Scientist
California Department of Fish & Wildlife
Dr. Sarah Kupferberg
Independent Scholar and Consulting Ecologist

Dr. Ryan Peek
Aquatic Ecologist
California Department of Fish and Wildlife
Alan Striegle
Biologist
San Francisco Public Utilities Commission
Contact
Grant Lyon
grant@elkhornslough.org

Sponsors

Coastal Training Program, Elkhorn Slough Natl. Estuarine Research Reserve

East Bay Regional Parks District

California Department of Fish and Wildlife

San Francisco Public Utilities Commission
Description
See also: Foothill Yellow-Legged Frog, Habitat Restoration
The Elkhorn Slough Reserve's Coastal Training Program (CTP), in partnership with East Bay Regional Park District (EBRPD), San Francisco Public Utilities Commission (SFPUC), and the California Department of Fish and Wildlife (CDFW), is offering a new hybrid workshop on the biology and conservation of Rana boylii, the Foothill Yellow-legged Frog (FYLF).
Dr. Ryan Peek (CDFW) will lead instruction. Dr. Peek's dissertation focused on the conservation genetics of the foothill yellow-legged frog, and he has been actively involved in range-wide conservation and management efforts for several critical amphibian species. He will be joined in instruction by Marcia Grefsrud (CDFW), Alan Striegle (SFPUC), and Dr. Sarah Kupferberg.
Workshop lectures will be offered virtually and the field trip will be at the Sunol Wilderness Regional Preserve (EBRPD). Lecture content will cover identification; life history; population ecology; threats and conservation; sampling methodologies and monitoring; listing status and management; and more (see below). The field portion of the workshop will include training on habitat assessment and survey techniques, as well as in situ discussions of management issues. We anticipate that participants will be able to observe multiple life stages and behaviors of FYLF along Alameda Creek in the Sunol Wilderness Regional Preserve. Workshop participants will not be individually handling animals to minimize impacts on the local population and meet permitting requirements.
Workshop Format
The workshop fee includes virtual lectures from 9am-12:30pm (subject to change), on Thursday, May 4 and Tuesday, May 9th and ONE of two field sessions, 9am-1pm (subject to change) on Wednesday, May 10th or Thursday, May 11th. After you register, please email grant@elkhornslough.org with your preference of field session.
The field sessions will take place in Alameda Creek, at the Sunol Wilderness Regional Preserve, 6 miles southeast of Calaveras Road exit on Hwy 680.
There will be a number of virtual-only lecture spots available at a reduced cost ($210). If you are interested in a lecture only spot, please email grant@elkhornslough.org instead of registering here.
Workshop Objectives
To increase participant understanding of
the biology of Rana boylii;
the latest research on the species;
habitat management for the species, and;
how to apply information in conservation planning efforts
Improve these participant skills
species identification;
aquatic habitat sampling techniques, and;
stream site assessment
Topics Addressed
Rana boylii life history and natural history, breeding, rearing and adult habitat requirement
Basic genetics and evolutionary history of Rana boylii
Instruction on how to identify all stages of Rana boylii
Recommended sampling methods and seasons for detecting different life history stages - specifically detailing CDFW sampling guidance
Permitting requirements for work with Rana boylii
Interactions of Rana boylii with other species
Demography and population dynamics of Rana boylii
Risk Factors associated with Rana boylii decline
Habitat restoration and reintroduction efforts
Frog friendly in-stream flow management and discussion of minimization measures that limit impacts of in-stream construction projects
Field Training Practicum
Participants will receive skills-based training in species identification, visual encounter survey, time-constrained, and area-constrained survey techniques. Ryan, Alan, and Marcia will lead participants on walks through stream reaches with varying densities of FYLFs to compare habitat attributes and risk factors affecting the frogs.
***Important information***
It is important to note that no component of this workshop should be construed to apply to attendees' ability to obtain permits related to the FYLF; if you are interested in how workshop activities might be used for permitting, you are encouraged to contact your agency permitting representative.
Registration details
Please note - you can pre-register via this website, but your registration will not be finalized until we receive your registration fee of $320. A number of discounted registrations may be available for students and professionals in particular need of this workshop who have limited ability to cover the expense (contact coastaltraining@elkhornslough.org to inquire). Payment can be either in the form of a credit card or a check made payable to the Elkhorn Slough Foundation and sent to:
Elkhorn Slough Foundation
ATTN: Coastal Training Program
1700 Elkhorn Road
Watsonville, CA 95076
Deadline for payment is 5 pm, Tuesday, April 18, 2023. If we have not received your payment at that time, your place may be forfeit to someone on our waiting list.
We will refund cancellations prior to April 18 minus a $50 processing fee; we cannot refund any fees after that date. We reserve the right to cancel the workshop prior to April 20, 2023; in that event, we will give full refunds.
We ask you not to cancel after the registration deadline; if you sign up, especially for the field trip, please show up so as to not waste a valuable workshop space. Repeated failure to adhere to these policies will likely jeopardize a person's future ability to enroll in our programs.
We generally do not allow third-party registrations – register only yourself! Registration is email sensitive; registering others frequently results in cancellation, missed communications, and other issues.
Because larger, wealthier organizations have in the past reserved large blocks of seats, excluding others from attending, only to cancel those reservations, we do not allow registration 'trading,' even to persons within the same organization.
Documents and Publications
Contact List
We encourage participants to download the contact list to assist with arranging a rideshare or to get in contact with someone you met at the workshop. Those interested in sharing a ride to the event are marked on the contact list.
Questions and Answers
Submit a question on this subject and we'll provide an answer. coastaltraining@elkhornslough.org