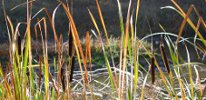 Training
Communicating Climate Change: Climate Engagement Strategies and Problem Solving - Elkhorn Slough Reserve
During this day long training participants will discuss and identify opportunities for engaging the public around climate change.
COST: $60.00
Payable by check to Elkhorn Slough Foundation
Payable by credit card (online)

REGISTRATION FOR THIS PROGRAM IS CLOSED
---
Instructor Information
Contact
Virginia Guhin
virginia@elkhornslough.org
831-274-8700
Sponsors
Description
Documents and Publications
Contact List
We encourage participants to download the contact list to assist with arranging a rideshare or to get in contact with someone you met at the workshop. Those interested in sharing a ride to the event are marked on the contact list.
DOCUMENT
AUTHOR / SOURCE
PEER-REVIEWED PUBLICATIONS
Changing learner behavior through environmental education
PDF, 3.6MB
Hungerford & Volk, 1990


Climate Change in the Californian Mind
PDF, 995KB
Anthony Leiserowitz, Geoff Feinberg, Peter Howe, and Seth A. Rosenthal
Yale Project on Climate Change Communication
2013
Climate change scenarios for the California region
PDF, 923KB
Cayan, D., Maurer, E., Dettinger, M., Tyree, M. & Hayhoe, K.
Climatic Change 87: 21-42
2008
OTHER INFORMATION
Be prepared: The ocean in a 2C world
PDF, 333KB
Center for Ocean Solutions
Center for Ocean Solutions
2013
Best practices for talking with climate skeptics
PDF, 126KB
TRIG - Climate Access - compiled
Climate Access

Climate future forums -A model for engaging communities in building climate resilience and reducing emissions
PDF, 4.7MB
TRIG
TRIG
2013
Climate science communications assessment
PDF, 1.3MB
RESOLVE
RESOLVE
2012
Global climate change as seen by zoo and aquariun visitors
PDF, 3MB
Luebke, J.F., Clayton, S., Saunders, C.D., Matiasek, J., Kelly, L.-A. D., & Grajal, A.
Chicago Zoological Society
2012
Links
Buy Clean Energy
http://buycleanenergy.org/
Climate Access
http://www.climateaccess.org/
Climate Central
http://www.climatecentral.org/
NOAA Digital Coast
http://www.csc.noaa.gov/digitalcoast/
Panelist - Dan Cohen
http://www.facilitatingpower.com/
Panelist - Rosa Gonzalez
http://www.facilitatingpower.com/
Panelist Jeff Kirschner
http://www.usatoday.com/videos/tech/2013/12/23/2996197/
Regional Climate Trends - South West
http://scenarios.globalchange.gov/sites/default/files/NCA-SW_Regional_Scenario_Summary_20130517_banner.pdf
Seachange Studios
http://www.seachangestudios.net/
Simon Sinek TED Talk
http://www.ted.com/talks/simon_sinek_how_great_leaders_inspire_action
Solutions Project
http://thesolutionsproject.org/
TOPOS Partnership
http://www.topospartnership.com/
Questions and Answers
Submit a question on this subject and we'll provide an answer. coastaltraining@elkhornslough.org