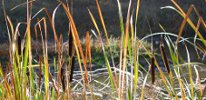 Training
California Red-legged Frog Repeat Workshop 2012
The Elkhorn Slough Coastal Training Program announced the California Red-Legged Frog Workshop - Repeat, April 26, 2012 from 8 a.m. - 6 p.m., at the Elkhorn Slough National Estuarine Research Reserve. The workshop consisted of classroom lectures complimented by an afternoon field component. Registration also included attendance at one of two night time field training sessions on the evenings of either April 25 or April 26. Evening training was from 8:00 pm until midnight.
COST: FREE
REGISTRATION FOR THIS PROGRAM IS CLOSED
---
Instructor Information
Dr. Galen Rathbun
Research Associate
California Academy of Sciences
Norman Scott, Jr.
Research Associate
Smithsonian Institution
Contact
Virginia Guhin
virginia@elkhornslough.org
831-274-8700
Sponsors

Coastal Training Program, Elkhorn Slough Natl. Estuarine Research Reserve
Description
See also: California Red Legged Frog, Habitat Restoration
California Red-legged Frog Repeat Workshop
April 26, 2012
With evening training sessions on either April 25 or April 26, 2012
Due to the overwhelming response to our annual California Red-Legged Frog Workshop the Elkhorn Slough Coastal Training Program announced the addition a second offering!
The workshop registration included 5 hours of classroom lecture, a 2-hour day time field training session and a 4-hour night time field training component. Lecture was at the Elkhorn Slough Reserve; field training was in Northern Santa Cruz County at a site known to support a very healthy population of the species.
Intended audience included: biological consultants, land managers, researchers, and resource protection agency personnel.
Workshop Objectives:
This was a great opportunity to receive training in species identification, field sampling techniques, and the habitat requirements of the California red-legged frog (CRLF). Workshop information will be useful for conservation planning and for educational outreach to agricultural producers and others who are considering projects that may impact CRLF. The workshop also provided foundational knowledge for monitoring projects where potential impacts to CRLF have been identified. *No regulatory or permitting information was included in this workshop.
Workshop Format:
April 26th Morning Session(8:00am-2:00pm) - Classroom: Overview of biology and management of the California red-legged frog. Meet at the Elkhorn Slough National Estuarine Research Reserve.
April 26th Afternoon Session(2:00pm-6:00pm) - Field trip to areas on the North Coast of Santa Cruz County: Habitat requirements and assessment, pond designs, equipment demonstrations, tadpole identification and survey techniques, and frog marking techniques. Personal vehicles required to travel to field sites.
The night session was at the Graniterock Sand Quarry, just north of the City of Santa Cruz on Highway 1. Instructors demonstrated decontamination techniques, detecting frog eye shine, and capturing, handling, sexing, and measuring tadpoles and/or adult frogs.
Documents and Publications
Contact List
We encourage participants to download the contact list to assist with arranging a rideshare or to get in contact with someone you met at the workshop. Those interested in sharing a ride to the event are marked on the contact list.
DOCUMENT
AUTHOR / SOURCE
WORKSHOP MATERIALS
Bibliography of Techniques Applicable to California Red-Legged Frog (Rana draytonii) Study and Management
PDF, 121KB
Galen Rathbun and Norman Scott
Elkhorn Slough Coastal Training Program
March 2010
CRLF 2012 Repeat workshop Contact List
XLS, 0B
Virginia Guhin


PEER-REVIEWED PUBLICATIONS
Do a threatened native amphibian and its invasive congener differ in response to human alteration of the landscape?
PDF, 199KB
Antonia D'Amore, Valentine Hemingway, Kerstin Wasson
Biol Invasions
Feb 6 2009
Evaluation of a radio-belt for ranid frogs
PDF, 136KB
Galen Rathbun and Thomas Murphey
Herpetological Review 27(4):187-189
1996
Invasive species shifts onto genetic resource partitioning and microhabitat use of a threatened native amphibian
PDF, 164KB
Antonia Amore, Eric Kirby, Michael McNicholas
Aquatic Conservation: Marine and Freshwater Ecosystems 19: 534-541
2009
Overwintering Tadpoles in the California Red-legged Frog (Rana aurora draytonii)
PDF, 218KB
Gary M. Fellers, Alan E. Launer, Galen Rathbun, Steve Bobzien, Jeff Alvarez, David sterner, Richard B. Seymour, and Michael Westphal
Herpetological Review 32(3):156-157
2001
Rana draytonii dispersal
PDF, 84KB
Mark Allaback, David M. Laabs, David S. Keegan, Josh D. Harwayne
Herpetological Review, 41(2), 204-206
2010
Rana draytonii (California red-legged frog). Behavior- dangers of drift fences
PDF, 62KB
Galen Rathbun, Norman Scott, Thomas Murphey
Herpetological Review 28(2):85-86
1997
Rana Draytonii (California Red-legged Frog). Egg Predation.
PDF, 39KB
Galen Rathbun
Herpetological Review 29(3):165
1998
Relocations of California red-legged frogs, California, USA.
PDF, 1.2MB
Dana Bland
Re-introduction News, Newsletter of the Re-introduction Specialist Group, IUCN, No. 25:12-13.
2006
Reproductive Interference by an Invasive Species an Evolutionary Trap?
PDF, 130KB
Antonia D'Amore, Eric Kirby, Valentine Hemingway
Herpetological Conservation and Biology 4(3):325-330
2009
Terrestrial activity and conservation of adult California red-legged frogs Rana aurora draytonii in coastal forests and grasslands
PDF, 349KB
John B. Bulger, Norman J. Scott Jr., Richard B. Seymour
Biological Conservation 110:85-95
2003
Translocation of California red-legged frogs (Rana aurora draytonii)
PDF, 789KB
Galen Rathbun and Julie Schneider
Wildlife Society Bulletin 29(4):1300-1305
2001
OTHER INFORMATION
Management Guidlines for the California Red-Legged Frog
PDF, 188KB
Drs. Galen Rathbun and Norman Scott
Elkhorn Slough Coastal Training Program
February 2009
Read Me - CRLF Field Information 2012
PDF, 24KB



Revised Guidence on Site Assessments for California Red Legged Frog
PDF, 143KB
US Fish and Wildlife
US Fish and Wildlife
August 2005
Questions and Answers
Submit a question on this subject and we'll provide an answer. coastaltraining@elkhornslough.org