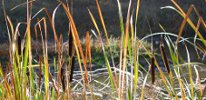 Training
California Tiger Salamander Field Practicum #1 2015
REGISTRATION OPENS: Mon, Apr 20, 2015
DEADLINE TO REGISTER: Mon, Apr 20, 2015
COST: FREE
CLASS SIZE: 16 Details for this workshop have not yet been finalized.
---
Instructor Information
Dr. Peter Trenham
Lecturer and Advisor
Penn State University
Contact
Grey Hayes
grey@elkhornslough.org
831-274-8700
Sponsors

Coastal Training Program, Elkhorn Slough Natl. Estuarine Research Reserve
Description
See also: California Tiger Salamander, Habitat Restoration
This field session was offered as part of the April 23rd, 2015 California Tiger Salamander Workshop. See the website for that workshop at:
http://www.elkhornsloughctp.org/training/show_train_detail.php?TRAIN_ID=CaGS82Y
Documents and Publications
Contact List
We encourage participants to download the contact list to assist with arranging a rideshare or to get in contact with someone you met at the workshop. Those interested in sharing a ride to the event are marked on the contact list.
Questions and Answers
Submit a question on this subject and we'll provide an answer. coastaltraining@elkhornslough.org