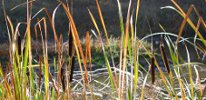 Training
California Red-Legged Frog Field Practicum #2 2012
The Field session was offered as part of the April 12th California Red-Legged Frog Workshop.
Please review the "Read Me" document listed below for important information regarding the field session and the required and suggested equipment. This was especially important as SPECIFIC HEAD LAMPS ARE HIGHLY RECOMMENDED FOR THE TRAINING, and it TAKES TIME to locate one.
COST: FREE
REGISTRATION FOR THIS PROGRAM IS CLOSED
---
Instructor Information
Dr. Galen Rathbun
Research Associate
California Academy of Sciences
Norman Scott, Jr.
Research Associate
Smithsonian Institution
Contact
Virginia Guhin
virginia@elkhornslough.org
831-274-8700
Sponsors

Coastal Training Program, Elkhorn Slough Natl. Estuarine Research Reserve
Description
Documents and Publications
Contact List
We encourage participants to download the contact list to assist with arranging a rideshare or to get in contact with someone you met at the workshop. Those interested in sharing a ride to the event are marked on the contact list.
Questions and Answers
Submit a question on this subject and we'll provide an answer. coastaltraining@elkhornslough.org