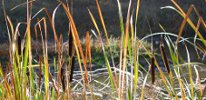 Training
Assessment to Planning: Collaboration on Climate Change Training Strategy Session
Climate trainers convened to explore opportunities for collaboration in meeting recently described audience needs.
COST: FREE
REGISTRATION FOR THIS PROGRAM IS CLOSED
---
Contact
Grey Hayes
grey@elkhornslough.org
(831) 274-8700
Sponsors

Coastal Training Program, Elkhorn Slough Natl. Estuarine Research Reserve
Description
See also: Coastal Training Network, Sustainable Human Systems
Authors of a recent audience needs assessment for climate-related training met with leading climate trainers to discuss how best to respond to the assessment's results. The group informed each other about current and past training and then discussed how to respond to emerging climate training needs. We planned a facilitated dialogue on collaboration as well as a discussion about overcoming climate training barriers identified in the assessment.
This workshop was by invitation only.
Documents and Publications
Contact List
We encourage participants to download the contact list to assist with arranging a rideshare or to get in contact with someone you met at the workshop. Those interested in sharing a ride to the event are marked on the contact list.
Links
2011 California Coastal Adaptation Needs Assessment Survey
http://ca-sgep.ucsd.edu/CCadapt_survey
Questions and Answers
Submit a question on this subject and we'll provide an answer. coastaltraining@elkhornslough.org