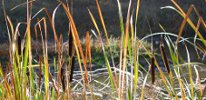 Training
Analytical Approaches to Riparian Buffers for Wildlife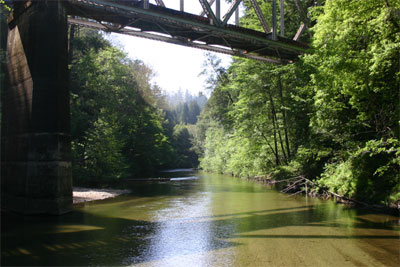 This workshop will provide participants with information and tools for improved ability to analyze a site to determine if/how riparian buffers would be appropriate for benefitting wildlife and aquatic resources.
COST: $200.00
Payable by check to Elkhorn Slough Foundation
Payable by credit card (online)

THIS PROGRAM HAS BEEN CANCELLED
---
Instructor Information
Ms. Carlene Henneman
Ecologist
Point Blue Conservation Science
Dr. Joe Merz

Cramer Fish Sciences
Contact
Grant Lyon
grant@elkhornslough.org
831-274-8700
Sponsors

Elkhorn Slough Coastal Training
Description
See also: Riparian Conservation and Ecology, Habitat Restoration
WE APOLOGIZE, BUT DUE TO LAST MINUTE CANCELLATION BY LEAD PRESENTER, WE HAD TO CANCEL THIS WORKSHOP!
Workshop Goal
Provide participants with information and tools for improved ability to analyze a site to determine if/how riparian buffers would be appropriate for benefitting wildlife and aquatic resources.
Objectives
Participants significantly improve their ability to analyze a site and determine:
A. If/how a riparian area buffer would be appropriate to improve wildlife habitat
B. How a riparian area buffer would interact with the adjoining land use
Description
This one-day workshop trains participants in how to improve their analyses in consideration of the use of buffers to conserve wildlife associated with riparian areas. Presenters will train participants in analytical frameworks for determining if and how buffers could be effective at improving wildlife/fisheries habitat and how such buffers would interact with the adjoining land use. The workshop includes hands-on, skills-improving exercise, including field exercises, to improve integration of course material.
Instructors have expertise in the wide range of subjects key to better understanding the subject matter. Workshop instructor Carlie Henneman, with Point Blue Conservation Science, draws on her own as well as her organization's experience with wildlife ecology and buffers in training others in improved conservation approaches. Workshop instructor Joe Merz, with Cramer Fish Sciences, has extensive experience training professionals on aquatic resource conservation and riparian conservation.
The workshop fee of $200 includes a classroom session on September 24 at the Felton Community Hall as well as field training sessions along the San Lorenzo River in downtown Felton as well as Henry Cowell Redwoods State Park. Fee also includes coffee, lunch, refreshments, and handouts.
Registration details
Please note -you can pre-register via this website, but your registration will not be finalized until we receive your registration fee of $200. Payment can be either in the form of a credit card or a check made payable to the Elkhorn Slough Foundation and sent to:
Elkhorn Slough Foundation
ATTN: Grey Hayes
1700 Elkhorn Road
Watsonville, CA 95076
Deadline for payment is 5 p.m. Tuesday, September 1, 2015. If we have not received your payment at that time, your place may be forfeit to someone on our waiting list. Cancellations prior to that date will receive a refund of payment minus a $50 processing fee. We cannot refund any money if you cancel after September 1. We reserve the right to cancel the workshop prior to September 3, 2015; in that event, we will give full refunds.
We do not allow third party registration- register only yourself! Registration is email sensitive; registering others frequently results in cancellation, missed communication, and other issues.
We also do not allow registration 'trading,' even to persons within the same organization.
Please let us know as soon as you know if you have registered and cannot attend as there is usually an extensive waiting list for our trainings and we use substantial funds to subsidize workshop expenses, helping to make them more affordable.
Documents and Publications
Contact List
We encourage participants to download the contact list to assist with arranging a rideshare or to get in contact with someone you met at the workshop. Those interested in sharing a ride to the event are marked on the contact list.
Questions and Answers
Submit a question on this subject and we'll provide an answer. info@elkhornsloughctp.org