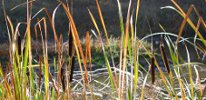 Training
California Tiger Salamander Field Training Practicum #2 2012
Field training practicum included for those who are registered in the 2012 California Tiger Salamander Workshop.
COST: FREE
REGISTRATION FOR THIS PROGRAM IS CLOSED
---
Instructor Information
Dr. Peter Trenham
Lecturer and Advisor
Penn State University
Contact
Grey Hayes
grey@elkhornslough.org
831-274-8700
Sponsors

Coastal Training Program, Elkhorn Slough Natl. Estuarine Research Reserve
Description
See also: California Tiger Salamander, Habitat Restoration
This field session was offered as part of the June 7th 2012 California Tiger Salamander Workshop. See the website for that workshop at:
http://www.elkhornsloughctp.org/training/show_train_detail.php?TRAIN_ID=20112ST
*Important* - Please read the "Read Me" document below for pertinent information regarding the field work.
***very important***
It is important to note that no component of this workshop should be construed to apply to attendees ability to obtain permits related to the CTS; if you are interested in how workshop activities might be used for permitting, you are encouraged to contact your agency permitting representative.
Documents and Publications
Contact List
We encourage participants to download the contact list to assist with arranging a rideshare or to get in contact with someone you met at the workshop. Those interested in sharing a ride to the event are marked on the contact list.
Questions and Answers
Submit a question on this subject and we'll provide an answer. coastaltraining@elkhornslough.org