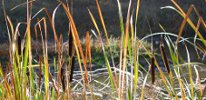 Welcome to the Elkhorn Slough Coastal Training Program
With the significant development pressures on coastal communities and the resulting impacts to coastal resources, it is important that those individuals involved in coastal decision making and planning have the opportunity to improve their skills and scientific knowledge in order to address critical resource issues.
To answer this need, the National Estuarine Research Reserve System began its Coastal Training Program (CTP). The objectives of this program are to:
Provide the best available science, tools, and techniques to those individuals and groups whose actions impact coastal watersheds, estuaries and near shore waters.
Increase our understanding of the environmental, social, and economic consequences of human activity within the coastal landscape.
Increase information exchange and collaboration amongst the many individuals and institutions who affect coastal ecosystems.
The Elkhorn Slough Coastal Training Program focuses on a variety of local and regional issues including those of particular significance such as
habitat management
sustainable agriculture
clean water
eco-tourism
endangered and invasive species
We strive to provide useful courses that address high priority issues of local and regional importance to planners, managers and regulators of coastal area resources.
The Coastal Training Program brings diverse people together - farmers, fishermen, regulatory personnel, elected officials, landowners, and scientists - to define issues and explore solutions. We are able to build collaborative networks that teach and lead each other to conserve one of the biodiversity hotspots of the U.S.
As our program grows and develops, we are becoming the region's premier forum for people to go to when they need better information about coastal ecology.
Monterey County Planners Workshop: Coastal Act Protections for Wetlands and Sensitive Habitats
Sep 15, 2014, 9:00 AM
Elkhorn Slough Reserve
A workshop for Monterey County staff to better understand Coastal Act protections for wetlands and sensitive habitats.
Environmental Negotiation Skills for Scientist and Resource Managers
Sep 16, 2014, 8:00 AM
Red Lion Inn Sacramento
This workshop presents basic negotiation concepts (e.g., Fisher and Ury's "Getting to Yes" series) and specific ...
Tidal Wetland Restoration Field Trip Featuring: Eden Landing Ecological Reserve
Sep 25, 2014, 10:30 AM
Hayward Shoreline Interpretive Center
Come join us for an exciting opportunity to visit the Eden Landing Ecological Reserve, restoration site that is part of ...
Introduction to Geographic Information Systems
Sep 26, 2014, 8:30 AM
Interdisciplinary Sciences Building Room 486, UCSC
This course presents conceptual and practical discussions of the analysis of spatial information with the addition of exercises using the ...
Managing Habitats for the California Red-legged Frog Workshop 2014
Oct 2, 2014, 8:00 AM
Elkhorn Slough Reserve
This one day lecture draws from the expertise of presenter Trish Tatarian, who will discuss habitat characteristics of ...
Historical Ecology of Wetlands in the Vicinity of Elkhorn Slough
Oct 9, 2014, 11:00 AM
TBD
Learn about the historical wetlands in north Monterey County.
Data Acquisition in Geographic Information Systems
Oct 10, 2014, 8:30 AM
CANCELLED
Interdisciplinary Sciences Building Room 486, UCSC
This course provides students with the knowledge and practical experience necessary to develop skills in the acquisition, management, conversion, analysis, ...
Central Coast Rangelands Coalition Fall 2014 Membership Meeting: Helping Each Other Weather the Worst of Times
Oct 16, 2014, 9:00 AM
Vaquero Farms
The meeting will focus on hearing from ranchers about what others can do to help them through extreme weather events.& ...
Navigating the Environmental Compliance Process in Coastal California 2014
Oct 22, 2014, 8:30 AM
Moss Landing Marine Laboratories
This one-day workshop trains participants in how to better plan for the permitting and environmental review processes for projects ...
Spatial Analysis and Modeling, Part 1
Oct 24, 2014, 8:30 AM
Interdisciplinary Sciences Building Room 486, UCSC
This workshop provides an introduction to some of the fundamental concepts and concerns of spatial analysis and modeling in ...
Planning and Facilitating Collaborative Meetings
Nov 6, 2014, 9:00 AM
Bay Conference Center 3152 Paradise Drive Tiburon,CA 94920
Learn to design meetings that enhance problem solving and minimize conflict. Collaboration can be complicated, requiring a systematic ...
Introduction to Web Mapping Development using the ArcGIS Javascript API
Nov 7, 2014, 8:30 AM
Interdisciplinary Sciences Building Room 486, UCSC
This workshop teaches the basics of how to build attractive, sophisticated internet mapping applications using the lightweight, browser based ArcGIS ...