threatened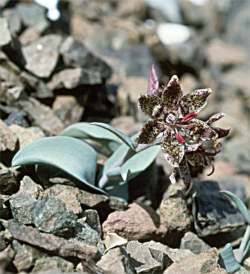 Photo taken at Del Puerto Cañon, Stanislaus County © Dean W. Taylor.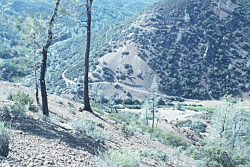 Photo taken at Del Puerto Cañon, Stanislaus County © Dean W. Taylor.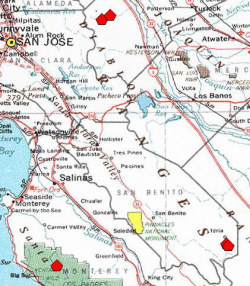 A red polygon indicates an extant occurrence.
---



This fact sheet was prepared by Grey F. Hayes and Dean W. Taylor under award NA04N0S4200074 from the National Oceanic and Atmospheric Administration (NOAA), U.S. Department of Commerce (DOC). The statements, findings, conclusions, and recommendations are those of the authors and do not necessarily reflect the views of the NOAA or the DOC.
© Copyright 2006, Elkhorn Slough Coastal Training Program
Last updated: Sep 11, 2007 19:59
Common Names - talus fritillary
Family - Liliaceae (Lily Family)

State Status - none
Federal Status - none
Habitat
Steep angle-of-repose scree and talus slopes without dense, woody vegetation, or predominantly, margin of serpentine barrens in Jeffrey pine (Pinus jeffreyi)–scrub oak (Quercus berberidifolia) forests; 300–1200 m.

Key Characteristics
Bulb with 2–4 large scales and up to 32 smaller scales ("rice grain bulblets"); leaves 2–6, alternate, fleshy near stem, widely linear, folded, sickle-shape (falcate), blades gray-glaucuous, glabrous, to 8.5 cm long; flowering stems to 2 dm tall; flowers 1–2, ± erect; tepals mottled, greenish abaxially, mottled rusty brown and yellow adaxially, 15–22 mm long, nectary indistinct, 1/2-2/3 perianth, widey lanceolate to diamond-shaped, yellow-green spotted with rusty brown mottling; anthers maroon, style branches divided ± 2/3 (McNeal and Ness 2013). Not readily confused with any other Fritillaria in our region (however, in Oregon the name F. falcata has been misapplied to F. glauca E. Greene, Eastman 1990).
Flowering Period
March to May

Reference Population
San Benito Mountain (San Benito County).
Global Distribution
Endemic to the Diablo and Santa Lucia Mountains in Alameda, Monterey, San Benito, Santa Clara, and Stanislaus counties (CNPS 2010).
Conservation
Frequent in cultivation in England (Pratt and Jefferson-Brown 1987), where it has been continually propagated for 25+ yrs. Perhaps threatened by horticultural collecting in the wild, although most populations are difficult to locate and access. Two populations are known on BLM lands at San Benito Mountain within a Research Natural Area (RNA). One site on San Benito Mountain has fluctuated greatly, with gophers consuming many large bulbs, leaving the rice-grain bulblets to recolonize following disturbance. Two populations occur in the Ventana Wilderness, Los Padres National Forest in Monterey County. A visit to one of these occurrences during a CNPS Rare Plant Treasure Hunt revealed no plants, possibly due to herbivory.

References
CNPS, Rare Plant Program. 2010. Fritillaria falcata, in Inventory of Rare and Endangered Plants (online edition, v8-02). California Native Plant Society, Sacramento, CA. http://www.rareplants.cnps.org/detail/823.html [accessed 9 February 2015].
Eastman, D. C. 1990. Rare and endangered plants of Oregon. Beautiful America Publishing Co. Wilsonville, OR.

McNeal, D. W. and B. D. Ness. 2013. Fritillaria falcata, in Jepson Flora Project (eds.). Jepson eFlora, http://ucjeps.berkeley.edu/cgi-bin/get_IJM.pl?tid=26145 [accessed 9 February 2015].
Pratt, K. and M. Jefferson-Brown. 1987. The gardener's guide to growing fritillaries. Timber Press, Portland, OR.