threatened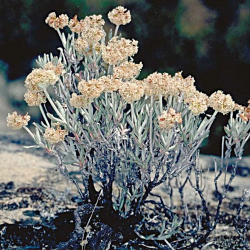 Photo taken on rocks south of Junipero Sierra Peak in the eastern Santa Lucia Mountains © 1999 by John Game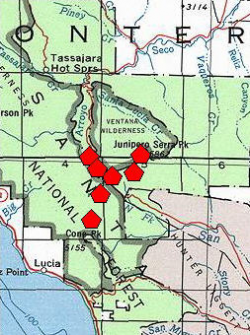 A red polygon indicates an extant occurrence
---



This fact sheet was prepared by Grey F. Hayes and Dean W. Taylor under award NA04N0S4200074 from the National Oceanic and Atmospheric Administration (NOAA), U.S. Department of Commerce (DOC). The statements, findings, conclusions, and recommendations are those of the authors and do not necessarily reflect the views of the NOAA or the DOC.
© Copyright 2006, Elkhorn Slough Coastal Training Program
Last updated: Sep 2, 2007 12:12
Common Names - Butterworth's buckwheat
Family - Polygonaceae (Buckwheat Family)

State Status - none
Federal Status - none
Habitat
Sandstone cliffs and outcrops in chaparral or foothill woodland, commonly with Castilleja foliolosa
Key Characteristics
Small subshrubs 1–4 dm tall and to ca. 3 dm wide, freely branched; leaves narrowly elliptic, 5–20 mm long and ca. 4–6 mm wide, the margins revolute, white-tomentose below, less pubescent and more greenish-gray above; involucres solitary and sessile, 5–6 mm long, ribbed and with 5-teeth; heads subcapitate, tepals glabrous, 4–5 mm long, tawny-yellow to rose, the base not stipate. Relatively novel in habit and appearance and not readily mistaken for any other species in our region.


Flowering Period
June to July

Reference Population
The Indians, Los Padres National Forest (Monterey County)


Global Distribution
Endemic to the Santa Lucia Mountains (Monterey County)


Conservation
Stephenson & Calcarone (1999) estimated only 65 acres of occupied habitat, but field surveys are not complete over large areas of suitable habitat. Perhaps only a few thousand total individuals total are known. Vulnerable to minor impacts associated with hikers on the Junipero Serra trail. Reveal (1989) considered the relationships of E. butterworthianum within subgenus Eucycla to be uncertain, but it seems to me to be related to E. microthecium, and resembles in disjunction that of Carlquistia muirii, isolated in the Santa Lucia Mountains and also the Sierra.


Reference
Stephenson, J. R. and G. M. Calcarone. 1999. Southern California Mountains and Foothills Assessment: Habitat and Species Conservation Issues. USDA Forest Service GTR-PSW-175.