threatened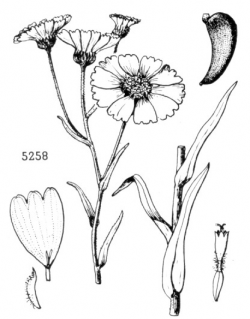 Illustration from Ferris (1960).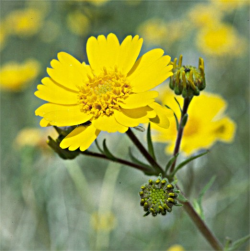 Photo taken in the Tumey Hills, Fresno County © Dean W. Taylor.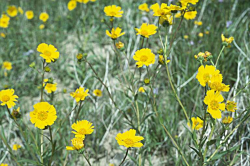 Photo taken in San Benito County © 1995 Dean W. Taylor.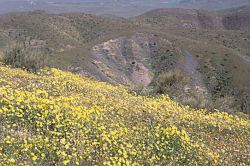 Photo taken in the Tumey Hills, Fresno County © Dean W. Taylor.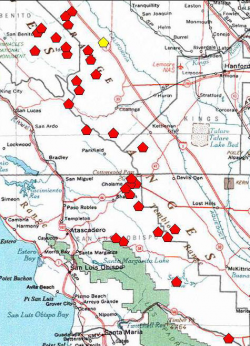 A red polygon indicates an extant occurrence; yellow indicates the occurrence has been extirpated.
---



This fact sheet was prepared by Grey F. Hayes and Dean W. Taylor under award NA04N0S4200074 from the National Oceanic and Atmospheric Administration (NOAA), U.S. Department of Commerce (DOC). The statements, findings, conclusions, and recommendations are those of the authors and do not necessarily reflect the views of the NOAA or the DOC.
© Copyright 2006, Elkhorn Slough Coastal Training Program
Last updated: Jan 24, 2015 17:10
Common Names - showy golden madia
Family - Asteraceae (Sunflower Family)

State Status - none
Federal Status - none
Habitat
Arid hills in the rain shadow of the Diablo Ranges. Most frequently on adobe or gypseous clay soils, in grasslands, herb-rich openings in scrub, or herb-rich openings in oak woodlands; 25-1215 m. Appearing only in wet years in many known sites
Key Characteristics
Annual herb 1–9 dm tall, stem glandular-hairy, glands yellowish or purple, lateral branches often > central stem; flowers showy, in open ± flat-topped clusters; involucre depressed-spheric; ray flowers 8–16, corolla golden yellow, ray 6–19 mm long; disk flowers 18–65, bisexual, anthers yellow to brownish; paleae free, readily falling; ray fruit compressed, strongly arched, dark or mottled, beaked, beak adaxially offset, curved, disk fruit not beaked (Baldwin 2013). Very similar in gross habit and appearance to Monolopia major (which differs in having a naked receptacle, i.e. without paleae). Also confused with Deninandra halliana (with disk flowers all staminate and paleae in 1 series) (Baldwin 2013).
Flowering Period
February to May

Reference Population
None locally; Tumey Hills (Fresno County).

Global Distribution
Endemic to Caifornia in the San Joaquin Valley/San Francisco Bay Area, and Inner South Coast Range in Contra Costa (presumed extirpated), Fresno, Kings, Kern, Monterey (presumed extrpated), Santa Barbara (presumed extirpated), San Benito, Santa Clara, San Joaquin (presumed exirpated), San Luis Obispo, and Stanislaus counties (Baldwin 2013, CNPS 2011).
Conservation
It is still the case that little information exists about this species. The CNPS Inventory (2011) states that occurrences are scattered and collections quite old with fieldwork needed. Extirpated localities are in the northern end of the range in the Mount Diablo region. This species is likely to occur in the the SCoR portions of Stanislaus and Merced counties. Two reported occurrences from the floor of the San Joaquin Valley in Kern County are unverified. Plants are easily damaged by cattle of trampling of clay soils on steep hills and are threatened by non-native species (CNPS 2011).
Reference
Baldwin, B. G. 2013. Madia radiata, in Jepson Flora Project (eds.). Jepson eFlora, http://ucjeps.berkeley.edu/cgi-bin/get_IJM.pl?tid=4053 [accessed 20 February 2015].
CNPS, Rare Plant Program. 2011. Madia radiata, in Inventory of Rare and Endangered Plants (online edition, v8-02). California Native Plant Society, Sacramento, CA. http://www.rareplants.cnps.org/detail/1054.html [accessed 20 February 2015].
Ferris, R. S. 1960. Illustrated flora of the Pacific States, vol. 4. Stanford University Press, Stanford, CA.