threatened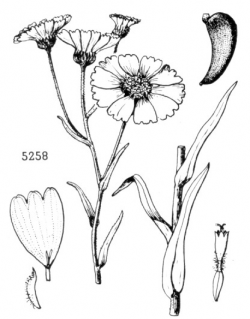 Illustration from Abrams (1960)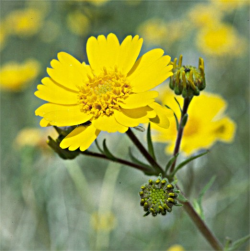 Photo taken in the Tumey Hills, Ventura County by Dean W. Taylor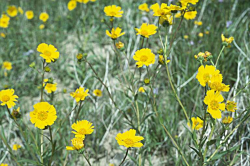 Photo taken in San Benito County © 1995 by Dean W. Taylor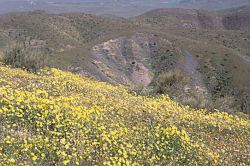 Photo taken in the Tumey Hills, San Benito County by Dean W. Taylor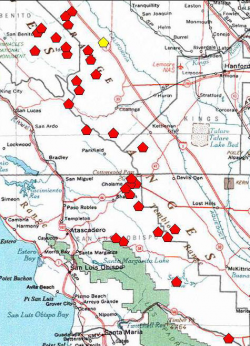 A red polygon indicates an extant occurrence; yellow indicates the occurrence has been extirpated
---



This fact sheet was prepared by Grey F. Hayes and Dean W. Taylor under award NA04N0S4200074 from the National Oceanic and Atmospheric Administration (NOAA), U.S. Department of Commerce (DOC). The statements, findings, conclusions, and recommendations are those of the authors and do not necessarily reflect the views of the NOAA or the DOC.
© Copyright 2006, Elkhorn Slough Coastal Training Program
Last updated: Jan 24, 2015 17:10
Common Names - showy tarplant, golden tarplant
Family - Asteraceae (Sunflower Family)

State Status - none
Federal Status - none
Habitat
Arid hills in the rain shadow of the Diablo Ranges. Most frequently on adobe or gypseous clay soils, in grasslands, herb-rich openings in scrub, or herb-rich openings in oak woodlands, 25-1215 m. Appearing only in wet years in many known sites.
Key Characteristics
Annual herb < 9dm tall; entire plant with golden brown glandular trichomes; flowers showy, with 8–16 ray flowers, their ligules < 20 mm long; anthers of disk flowers black; very similar in gross habit and appearance to Monolopia major (which differs technically in having a naked receptacle, i.e. without marginal chaffy bracts).

Flowering Period
February to May

Reference Population
None locally; Tumey Hills (Fresno County)


Global Distribution
Endemic to the South Coast Ranges of California.
Conservation
Extirpated localities are in the northern end of the range in the Mount Diablo region. This species is likely to occur in the the SCoR portions of Stanislaus and Merced counties. Two reported occurrences from the floor of the San Joaquin Valley in Kern County are unverified. Plants are easily damaged by cattle of trampling of clay soils on steep hills.


Reference
Abrams, L. 1960. Illustrated Flora of the Pacific States, Vol. 4. Stanford University Press, Stanford, CA.