endangered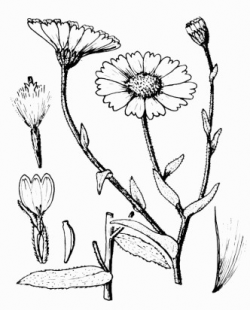 Illustration from Ferris (1960).
Photo taken in the Los Padres National Forest, Ventura County © 2003 Christopher L. Christie.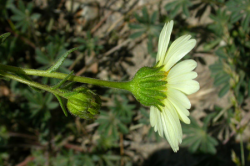 Photo © 2003 Christopher L. Christie.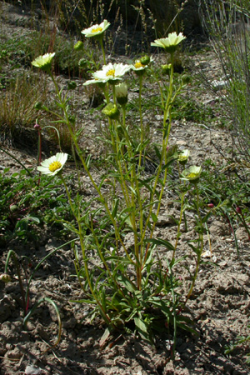 Photo © 2003 Christopher L. Christie.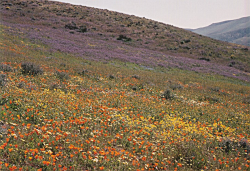 Photo taken in the Griswold Hills, San Benito County © Dean W. Taylor,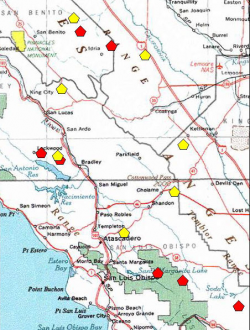 A red polygon indicates an extant occurrence; yellow indicates the occurrence has been extirpated.
---



This fact sheet was prepared by Grey F. Hayes and Dean W. Taylor under award NA04N0S4200074 from the National Oceanic and Atmospheric Administration (NOAA), U.S. Department of Commerce (DOC). The statements, findings, conclusions, and recommendations are those of the authors and do not necessarily reflect the views of the NOAA or the DOC.
© Copyright 2006, Elkhorn Slough Coastal Training Program
Last updated: Jan 24, 2015 17:05
Common Names - pale-yellow layia
Family - Asteraceae (Sunflower Family)

State Status - none
Federal Status - none
Habitat
Open areas on clayey or sandy soil, sometimes alkaline; 200-1800 m (Baldwin and Bainbridge 2013).

Key Characteristics
Annual herb 3–9 dm tall, glandular, herbage apple- or banana-scented, stems often stout and hollow; leaves elliptic to ovate, often clasping, proximal leaves entire or minutely dentate or serrate; peduncle to 7 cm; involucre hemispheric, phyllary tips generally < folded base; ray flowers 7–13, ray 5–24 mm, white or cream; disk flowers 15–90+, anthers yellow to brownish; ray fruit generally glabrous, disk pappus of 14–20 bristles or bristle-like scales, falling as a unit, long-plumose proximally (Baldwin and Bainbridge 2013).
Flowering Period
April to June
Reference Population
None locally; Tumey Hills (Fresno County).
Global Distribution
Endemic to California in Fresno, Kern, Kings (presumed extirpated), Los Angeles, Monterey, Santa Barbara, possibly San Benito (presumed extirpated), San Luis Obispo (presumed extirpated), and Ventura counties (CNPS 2011).

Conservation
Judging from the frequency of old herbarium collections of this species (Clausen 1951), its abundance has declined significantly, and perhaps in relation to grazing intensity coupled with expansion of non-native annual grasses. In some sites (such as the Tumey Hills, Fresno County), populations appear only in very wet years. Where seen, populations are frequently highly colonial.


References
Baldwin, B. G. and S. J. Bainbridge. 2013. Layia, in Jepson Flora Project (eds.). Jepson eFlora, http://ucjeps.berkeley.edu/cgi-bin/get_IJM.pl?tid=3750 [accessed 19 February 2015].
Clausen, J. 1951. Stages in the Evolution of Plant Species. Cornell University Press, Ithaca, NY.
CNPS, Rare Plant Program. 2011. Layia heterotricha, in Inventory of Rare and Endangered Plants (online edition, v8-02). California Native Plant Society, Sacramento, CA. http://www.rareplants.cnps.org/detail/1709.html [accessed 19 February 2015].
Ferris, R. S. 1960. Illustrated Flora of the Pacific States, Vol. 4. Stanford University Press, Stanford, CA.