endangered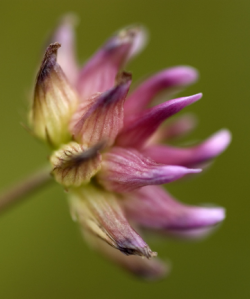 Photo taken in San Benito County © 2006 Dylan Neubauer.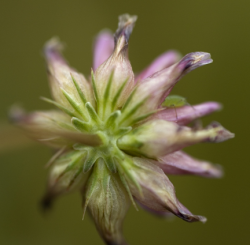 Photo © 2006 Dylan Neubauer.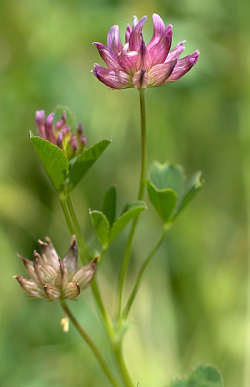 Photo taken at Moro Cojo Slough, Moss Landing, Monterey County © 2005 Aaron Schusteff.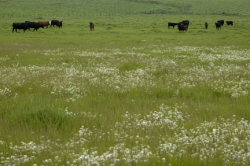 ---



This fact sheet was prepared by Grey F. Hayes and Dean W. Taylor under award NA04N0S4200074 from the National Oceanic and Atmospheric Administration (NOAA), U.S. Department of Commerce (DOC). The statements, findings, conclusions, and recommendations are those of the authors and do not necessarily reflect the views of the NOAA or the DOC.
© Copyright 2006, Elkhorn Slough Coastal Training Program
Last updated: Mar 6, 2015 16:56
Common Names - saline clover
Family - Fabaceae (Legume Family)

State Status - none
Federal Status - none
Habitat
Salt marshes, open areas in alkaline soils, alkaline grassland; < 300 m.
Key Characteristics
Annual herb, generally fleshy; inflorescence generally 1–1.5 cm wide, involucre bracts basally fused, lobes very small to nearly obsolete, < 1 mm, not margined; calyx 2.5–5 mm, fl tube not very inflated, conspicuously pleated or striate; corolla 6.5–9 mm, dull mauve (occasionally white); fruit ± style, ovate to oblong; seed 1–2 (Vincent and Isely 2013; Morgan 2015).
Flowering Period
April to June

Global Distribution
Endemic to central coastal California in Alameda, Contra Costa, Colusa (?), Lake, Monterey, Napa, Sacramento, San Benito, Santa Clara, Santa Cruz, San Joaquin, San Luis Obispo, San Mateo, Solano, Sonoma, and Yolo counties (CNPS 2011).
Reference Population
Moss Landing (Monterey County)

Conservation
Formerly a variety of Trifolium depauperatum, saline clover has been elevated to species status in the Second Edition of The Jepson Manual/Jepson eFlora (Vincent and Isely 2013). Soda Lake, now a dry alkaline lake bed, was originally a natural lake in a former meander of the Pajaro River. It is the only alkaline grassland area in the Santa Cruz Mountains and contains the only population of saline clover in Santa Cruz County, along with several genera and more than 10 taxa that occur nowhere else in the county (Morgan, pers. comm.). Thousands of saline clover plants were documented here in 2005. The area is threatened by grazing and the expansion of mining activities (CNDDB 2015).
Thousands of plants were estimated at Department of Fish and Game land at Moro Cojo Slough in 2000. The population is threatened by competition from invasive species and possibly the lack of grazing (CNDDB 2015). An occurrence near Pacific Grove has not been relocated since a collection was made in 1907 (CNDDB 2015).
References
California Natural Diversity Database (CNDDB). 2015. California Department of Fish and Wildlife RareFind 5. http://www.dfg.ca.gov/biogeodata/cnddb/mapsanddata.asp [accessed 6 March 2015]
CNPS, Rare Plant Program. 2011. Trifolium hydrophilum, in Inventory of Rare and Endangered Plants (online edition, v8-02). California Native Plant Society, Sacramento, CA. http://www.rareplants.cnps.org/detail/1285.html [accessed 6 March 2015].
Morgan, R. Personal communication [6 March 2015].
Vincent, M. A. and D. Isely. 2013. Trifolium hydrophilum, in Jepson Flora Project (eds.). Jepson eFlora, http://ucjeps.berkeley.edu/cgi-bin/get_IJM.pl?tid=80672 [accessed 6 March 2015].